Time to focus on women's access to sanitation, hygiene
Meghna Mukherjee and Minaj Ranjita Singh
Apr 11, 2017 04:21 PM IST
While women are tough and find ways to overcome challenges they face due to patriarchal mindsets and neglect for their well-being, they need to have the right to privacy to a place to bathe and a toilet
In the urban milieu, a 1-BHK is the bare minimum a family should have, in terms of shelter. And that unit includes bathroom space, however, small.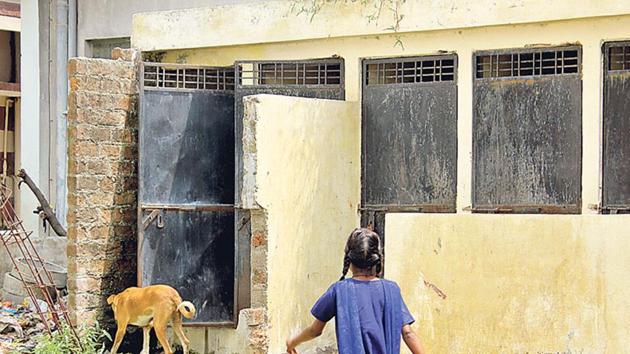 In fact, the government is working to ensure this through multiple schemes of housing for the poor. Under the Swachh Bharat Mission (Gramin), rural families that have access to homes are being motivated to build toilets and use them. Within this gambit, the one aspect that has not received enough attention is private bathing spaces within homes. This is especially a concern from the point of view of women.
Stay tuned with breaking news on HT Channel on Facebook.
Join Now
The 2011 Census reveals that only 25.4% households in rural India have bathrooms compared to the 19.7% who do not have a roof over their heads. The balance 55% has no private bathing space at all, forcing women to bathe in the open. When we study sanitation and hygiene practices, and the health of women in terms of extra workload, we find that 17% women in the rural areas must walk more than half a kilometre to get water from ponds, lakes or rivers for their families and cattle. With so much time and energy spent to get water for basic functions, fetching it for bathing seems like an arduous task. As a result, most women end up bathing at the water source. The situation is worse in areas of Rajasthan, Bihar, Jharkhand and Odisha that are drought-prone or face perennial water shortages.
Through our community engagement in these states we realised the multi-faceted problem of bathing in the open.
First, hygiene is compromised because when bathing in the open, women end up bathing with their clothes on. Second, the source of bathing water is the same as that for washing clothes, utensils and drinking water resulting in infections and further contamination of the water source. Third, bathing in water bodies have their own dangers in the form of water snakes, quicksand, cattle waste and garbage. Fourth, women become victims of eve teasing and lewd comments. Even though some communities have ensured strict dedicated times of the day for women to bathe in public places and are strict about men being spotted around those areas, this is not the case in a majority of communities and does not lessen the need for privacy for women.
During summers, some women carry a bar of soap when they go to work in the fields or to the market. If they find a water body, tap or well, they manage a bath. Some women bathe in groups and catch up on community gossip or share their lives' tales during this time. Some women have a bath at the community well, when the men leave for work in the fields. While women are tough and find ways to overcome challenges they face due to patriarchal mindsets and neglect for their well-being, they need to have the right to privacy to a place to bathe and a toilet.
This apathy towards the dignity for women through access to sanitation and hygiene is more cultural than economic in nature. More rural households have access to mobiles and satellite television today than before. With multiple income generation programmes such as the MGNREGA, thrust to improve agricultural outputs, incomes and consumption are on the rise. A recent report found that rural India spends about three times more on alcohol (Rs 140) and tobacco (Rs 196) than healthcare (Rs 56) each month; and an average of Rs 500 (18% of the monthly budget) on fast-moving consumer goods (FMCGs) like foods items, soaps, detergents, shampoos and hair oil.
Various sectors have turned their attention to sanitation after the sector received the prime minister's attention. Similarly, there is a need to focus on creating safe and private spaces for girls and women to stay clean, maintain personal hygiene and live a dignified life. As BR Ambedkar said, "I measure the progress of a community by the degree of progress which women have achieved."
Meghna Mukherjee and Minaj Ranjita Singh are research fellows, Tata Trusts
The views expressed are personal