We may see other Sterlite-like protests against polluting industries
Aarthi Sridhar and Naveen Namboothri
Jun 09, 2018 02:51 PM IST
Bringing in another CRZ regulation is of no use till action is initiated for disposal of waste waters and phasing out of industrial effluents
Protests against Vedanta's Sesa Sterlite Copper Smelter Plant's expansion plans and persistent pollution of air and water sources must be examined against another impending blow to environmental governance on a nationwide scale. The Ministry of Environment, Forest and Climate Change (MOEFCC), proposes to bring about changes to the Coastal Regulation Zone (CRZ) notification, by bringing in yet another notification – the CRZ 2018. Can this law help prevent other Sterlite-like incidents?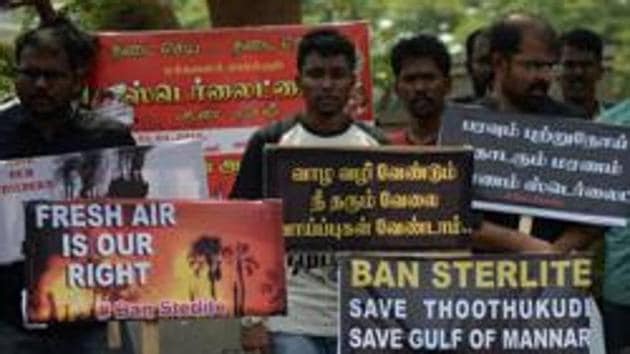 Sterlite, which was set up in 1996, falls well outside the CRZ, a narrow 500-metre band of land meant to be regulated by a law that was first introduced in 1991 under the Environment (Protection) Act, 1986. The proposed expansion plans for Sterlite depend on inputs like coke that are either imported by the neighbouring port of Tuticorin or supplied (such as water from the desalination plants located on the coast ). Establishments under the State Industries Promotion Corporation of Tamil Nadu (SIPCOT) are located on the coast for two primary reasons. One, it facilitates easy discharge of effluents into the coastal waters and second, proximity to port areas facilitates port-based industrial development.
In India, most coal-based thermal power plants gravitated close to port areas since thermal-grade coal could be imported. The CRZ law has always been attentive to the concerns of port-related establishments, declaring that these were essential activities requiring the foreshore and waterfront. The spirit of the CRZ 1991 notification was to ensure the 'regulation of activities, industries and processes' along the coast. This law was amended over 25 times, and in 2011 was completely replaced by the CRZ, 2011, which itself saw multiple amendments.
When the CRZ was first introduced, its spirit was to limit activities on the coast — only those which were essential. The initial 1991 notification saw port-based activities as being essential; after all, they could not be located anywhere else in the hinterland. The notification allowed construction of limited facilities, infrastructure and equipment which was essential for transactions that take place within a port. These included storage of oil, fertilisers, hazardous substances and also dredging works and land reclamation for erosion control. Over a period of time, a number of other activities have been declared by the ministry as being essential to the coast, which covers activities such as exploration of oil and natural gas (amended on April 12, 2001), strategic and defence-related port and harbour works (amended on January 6, 2011 ) and pipelines and transmission lines (amended on April 12, 2001). The spirit of limiting activities has been replaced by a spirit of opening up the coast to all.
Therefore, while industries and industrial complexes such as SIPCOT occupied the areas outside the 500m periphery, their life-links to ports continued to thrive thanks to the CRZ notification's partiality to ports. Amendments now permit desalination plants and allow sewage and effluent treatment within the CRZ. A new trend in SIPCOT is to include desalination plants within the limits of its 'industrial complexes' and to propose such complexes within the coastal zone, given the scarcity of water in many hinterland areas of Tamil Nadu. The environmental impact assessment for Sesa Sterlite's expansion plans says that it will acquire much of its water needs from desalination plants (now permitted within the CRZ) and can thus make a bold claim that they will be the world's fourth largest producer of copper, with an eye on exporting the coveted metal to markets in West Asia.
The new CRZ notification permits all these 'essential' activities but fails on one important count. The 1991 notification stated that polluting activities and disposal of waste waters and industrial effluents were to be phased out within three years from that notification. Absolutely no action was taken in two decades of its existence. None of the 25 amendments sought to strengthen this aspect of the law and not a single Coastal Zone Management Plan devoted even a single sentence to how to address the deadline based phase-out. The 2011 notification introduced new deadlines for phasing out sewage, waste water and effluent disposal and even allowed industries to set up sewage treatment plants within the CRZ. Both the 1991 and the 2011 notification did not contain any provisions on how these aspects were to be operated, monitored, implemented; who would be in charge and what might be the penalties. They merely had deadlines that were routinely ignored. The new 2018 notification is not only silent on affixing responsibility for various regulations on specific authorities, but it has removed altogether any deadlines for achieving its purpose. CRZ 2018 will usher in a new era of environmental lapses by industry; which may spark off other protests in India's other port towns.
Aarthi Sridhar and Naveen Namboothri are trustees of Dakshin Foundation.
The views expressed are personal.
"Exciting news! Hindustan Times is now on WhatsApp Channels
Subscribe today by clicking the link and stay updated with the latest news!"
Click here!