EC announces dates for assembly polls in 5 states: Highlights
Jan 04, 2017 03:00 PM IST
The Election Commission announced dates for assembly elections in Uttar Pradesh, Punjab, Uttarakhand, Manipur and Goa on Wednesday.
The Election Commission announced the schedule of the assembly elections to be held in five states on Wednesday.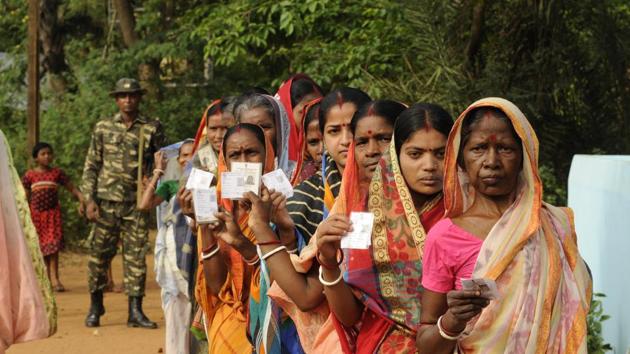 Five states, including the country's most populous and political crucial Uttar Pradesh, will face the poll test. The other four states are Punjab, Manipur, Goa and Uttarakhand.
The assembly elections are crucial for the ruling BJP as it will be the first time it will go to the polls after demonetisation.
Below are the highlights:
•Commission is in favour reducing limit of anonymous donations to Rs 2000 only, also mulling on whether we can switch to digital payments: CEC
•EC examining representation of some political parties on presentation of Union Budget during poll process; will take a view soon: CEC
•The most important thing is that asking for votes in name of religion will be deemed to be a corrupt practice: CEC
•Any query on freezing of SP poll symbol is hypothetical right now. Let us first examine the documents: Nasim Zaidi, ECI
•Election Commission says it will decide on the Samajwadi Party's election symbol based on rules and precedent
•Counting of votes will be held on March 11
• In Uttar Pradesh, polling will be held in seven phases- 11 Feb, 15 Feb, 19 Feb, 23 Feb, 27 Feb, 4 March and 8 March
•In Manipur, polling will be held in two phases - 4 March and 8 March
•In Uttarakhand, polling will be held on 15 Feb
•Punjab will go to polls on 4 February
•Goa will go to polls on 4 February
•All 5 states will go to polls at one go
•Commission will ensure level playing field for free and fair elections
•Commission has launched a large number of IT applications to facilitate voters, candidates, political parties
•Candidates have to register their social media accounts with the Election Commission
•Political parties will be required to file statements on candidates' expenses within 30 dates of announcement of results
•There will be strict expenditure monitor mechanism to curb black money
•The limit of electoral expenses for individual candidates is Rs 28 Lakh for UP, Punjab and Uttarakhand; Rs 20 Lakh for Manipur and Goa
•EC has already started monitoring preventive action
•Adequate central police forces will, be deployed along with local police for CBMs
•Model Code of Conduct comes into effect in 5 states immediately
•Candidates will be required to affix photo on nomination papers
•In addition to filing of the affidavit, there is an additional affidavit where candidates will be required to file a no-demand certificate' this certificate will come from agencies dealing with electricity, water.
•Postal ballots to be transferred electronically in some constituencies
•Ballot paper on EVMs will have photo of candidates
•Goa will be saturated with VVPAT. The no. of VVPAT constituencies will further increase
•EVMs will be used in all states
•Separate voting stations for women in places where they "don't mingle" with men: : Chief Election Commissioner Nasim Zaidi
•Height of voting compartment has been raised to 30 inch for secrecy
•Outside every polling station location, there will be a voter assistance booth
•Total of 1,85,000 polling stations will be covered under operations
•Colourful voter guide will be distributed along with photo voter slip to each family
•Over 16 crores voters are going to participate: Chief Election Commissioner Nasim Zaidi
•Electoral rolls to be published on following dates- Goa- 5 Jan, Manipur- 12 Jan, Punjab- 5 Jan, Uttarakhand- 10 Jan, UP- 12 Jan
•There are 690 legislative assemblies which will go to polls
• Term of legislative assemblies for 5 states expires on -Goa: 18 March, 2017; Manipur: 18 March, 2017; Punjab: 18 March, 2017; Uttarakhand: 26 March, 2017; UP: 27 May, 2017;
Follow
Karnataka election
news, exit polls, election schedule and results on Hindustan Times