Punjab elections: Amarinder proves a worthy captain for Congress
Mar 12, 2017 12:03 AM IST
Capt Amarinder Singh will be the new Punjab chief minister
For Punjab Congress chief Capt Amarinder Singh, his 75th birthday on Saturday will probably rank as the most memorable.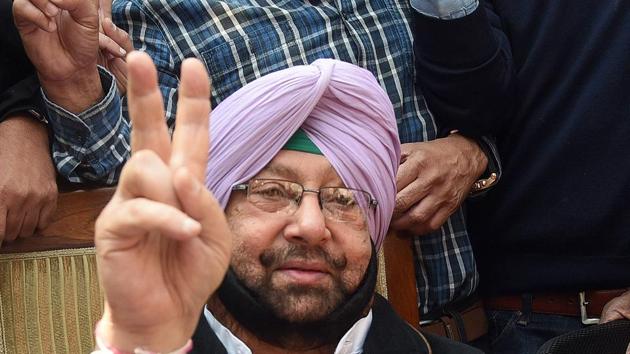 A former soldier, he scripted a huge win for the Congress in Punjab, proving most exit polls wrong that predicted a tight contest with Arvind Kejriwal's Aam Aadmi Party.
While the AAP was left miles behind, the ruling SAD-BJP recorded its worst-ever performance in the state.
In his home turf of Patiala, the Captain prevailed over the general when he beat former army chief and Shiromani Akali Dal candidate Gen JJ Singh. He lost to chief minister Parkash Singh Badal in Lambi, but is not complaining.
Before he entered the poll arena, Amarinder had to do some fighting of his own. He literally arm-twisted the party high command into dropping his predecessor, Partap Bajwa, to hand over the state unit to him.
A third straight defeat on his watch would have been a loss of face for Amarinder personally and a big blow to the party.
Out of favour and sidelined after the 2012 shock defeat, Amarinder's political career was resurrected by bitter rival Bajwa.
Ahead of the 2014 Lok Sabha election, he proposed that Amarinder take on BJP's Arun Jaitley from Amritsar, an election that he won.
Bajwa, on the hand, lost to BJP's Vinod Khanna in Gurdaspur.
An emboldened Amarinder openly took on Bajwa and even challenged the leadership of Congress vice-president Rahul Gandhi, dubbing him a "political novice".
His threat to split the Punjab Congress seemed to have worked, as the high command named him the state chief a fourth time.
But, it was a different Amarinder that Punjab saw this time.
Poll strategist Prashant Kishor built several campaigns around Brand Captain such as Coffee with Captain or Halke Vich Captain (Captain in assembly segment).
He also ensured that Amarinder was on the move, was accessible to workers and his poll pitch resonated with the youth, who account for half the state's voters.
The former royal was no more the chopper-hopping politician, who started his campaign day late and ended it early.
This time, he was the early bird -- he hit the road in January 2016, a year before the election was called.
Amarinder also dumped his infamous coterie for the war-room led by Kishor's team, I-PAC. He worked closely with high command appointees such as Asha Kumari and Harish Chaudhary and his grandson, Nirvan Singh.
Amarinder has won a famous victory for the Congress, battered by at a string of poll defeats. But, he has promised voters the moon. His real test will be to come good on his promises.
Follow
Karnataka election
news, exit polls, election schedule and results on Hindustan Times