Rahul Gandhi in Gujarat: India needs certificate from the country and people are saying Modi, Jaitley have failed
Updated on Nov 01, 2017 07:49 PM IST
On a campaign tour of Gujarat, Congress vice president Rahul Gandhi attacked the government, saying there is no ease of doing business in India. He also hit out at PM Narendra Modi over black money and said demonetisation had destroyed the economy.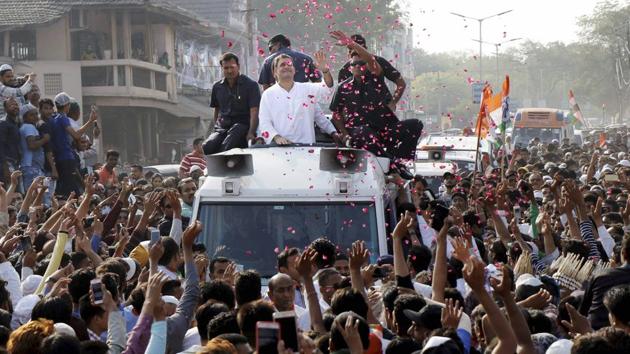 Agencies, Bharuch |
Agencies
Congress vice president Rahul Gandhi and finance minister Arun Jaitley sparred on Wednesday over whether it had become easier to do business in India, a day after a key World Bank index showed that business climate had improved in the country.
Gandhi targeted the finance minister , saying the "entire country will shout to say that there is no ease of doing business in India". He was addressing a public rally in Gujarat, which goes to the polls in December.
Within the hour, Jaitley retorted on Twitter: "The difference between the UPA and NDA- The ease of doing corruption has been replaced by the ease of doing business."
In its Ease of Doing Business report for 2018, an annual 190-country assessment of competitiveness, the world Bank said India had for the first time jumped a record 30 places into the top 100 .
The report comes as a shot in the arm for the Narendra Modi government that has been battling a negative narrative around the economy which has slowed to a three-year low of 5.7% in the quarter ended June. It will also help blunt political criticism ahead of elections in Gujarat and Himachal Pradesh, which votes on November 9.
On the first day of his three-day campaign tour of south Gujarat, Gandhi also hit out at Prime Minister Narendra Modi on the issue of black money and said demonetisation had destroyed the country's economy.
"India needs a certificate from the country, and the people are saying Narendra Modi, Arun Jaitley have failed," he said.
Targeting the finance minister, Gandhi said, "Yesterday Arun Jaitleyji said some foreign organisation has certified that India has considerably improved in ease of doing business...Is he living in real or a dream world?"
The finance minister, he added, should meet small and mid-sized businessman for five-10 minutes and ask if the situation had really improved.
"The entire country will shout and say ease of doing business is absent, you have destroyed it, your demonetisation and GST have ruined it," Gandhi said.
Earlier in the day, the Congress leader had tweeted in Hindi, taking off from a verse by Urdu poet Mirza Ghalib to attack Jaitley.
"Sabko maloom hai ease of doing business ki haqeeqat, lekin khud ko khush rakhne ke liye Dr Jaitley ye khayal achha hai (Everybody knows the reality of ease of doing business, but this thought is good Dr Jaitley to keep yourself happy)," wrote Gandhi.
According to the World Bank, India's rank on the 'ease of doing business' scale has risen from 130 to 100 this year, helped by a slew of reforms in taxation, licensing, investor protection and bankruptcy resolution.
The benchmark, based on data from New Delhi and Mumbai for the year to June 2017, puts India among the top 10 "improvers" globally, having done better in eight of 10 business indicators. But India still lags in areas such as starting a business, enforcing contracts and dealing with construction permits.
On black money
Gandhi claimed that the prime minister had failed to understand that a major portion of black money was in the form of gold, land or parked in Swiss banks.
"On November 8 last year, Modiji banned Rs 500 and Rs 1,000 notes. Small traders, shop keepers and farmers, they all deal in cash. They are not thieves. Their cash was not black money. But Modiji failed to understand that all the cash is not black money and all the black money is not in cash."
"They (BJP) talked a lot about Swiss bank accounts. Now they are in power for the last three years. You tell me how many Swiss bank account holders are in jail? Give me the name of one person Modiji has sent to jail?" he asked.
On note ban and GST
Demonetisation, said Gandhi, had hit small traders, workers, farmers and small businesses as they dealt in cash. "This decision destroyed our economy. Note ban reduced our GDP by 2%."
The entire country had been reduced to tears, but the prime minister was not ready to accept that demonetisation was a huge mistake, Gandhi said.
He also attacked Modi over the implementation of the Goods and Service Tax (GST), reiterating that he called it "Gabbar Singh Tax" because it snatched the hard earned money of poor citizens.
"The traders are facing immense difficulties in filling up three forms per month. Due to GST, small businesses incurred huge losses," Gandhi said.
'Gujarat unhappy'
Addressing the cheering crowd, he said Gujarat was the only state where no community was happy and named OBC leader Alpesh Thakor, Patidar quota agitation leader Hardik Patel and Dalit leader Jignesh Mevani to buttress his point.
Thakor, who recently joined Congress, shared the dais with Gandhi.
"Not a single community in Gujarat is happy. Be it Alpesh, Hardik or Jignesh, all sections of the society are angry. The only ones who are not complaining are five-10 influential industrialists... They are the only ones who are supporting Modiji and BJP," Gandhi said.
On Nano plant and farmers
He claimed the loan given to Tata Motors for the Nano plant was enough to waive the debt burden of Gujarat farmers.
"The farmers in Gujarat are crying for help, as they want farm loan waivers. Modiji (as then Gujarat CM) gave loans worth Rs 33,000 crore for Tata Nano. He even gave your land to the company. I want to tell you that the government could have waived all your farm loans with that Rs 33,000 crore," the Congress vice president said.
"Though Modiji gave that much money to the company, you will hardly see any Nano car on roads. This is Modiji's Gujarat model, where you do not get anything back despite giving that much money to corporates."
'Gifts for corporates'
Gandhi also alleged that key sectors such as education and health have been gifted to corporates.
Taking at Modi's 'Make in India' initiative, he said the entire focus of the government is on five-10 corporates who receive all facilities such as land, water and electricity.
"While China provides employment to 50,000 youth every day, India provides jobs to just 450 people per day under Modiji's 'Make in India' drive. Over 30 lakh are unemployed in Gujarat alone. This is happening because everything is being done for some five-10 industrialists only," he alleged.
Personalise your news feed. Follow trending topics