Love and Relationship Horoscope for February 1, 2023
Feb 01, 2023 06:00 AM IST
Horoscope Today February 1, 2023: Zodiacs whose love life is likely to favour today. Find the love daily astrological prediction for Aries, Libra, Capricorn, Pisces, and other zodiac signs for February 1.
Aries: Try to understand what's wrong with your partner and your relationship so that you can fix it. Maybe today you'll realise that your loved one really needs you to pay more attention to them. If you have been struggling with this person, this may be difficult. If you can put yourself in the other person's shoes, you'll be better able to empathise with their struggles and help each other out.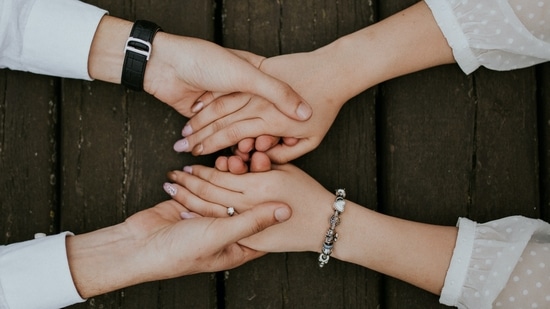 Taurus: Be on the lookout for an intriguing companion, but keep any negative views in check. There's a good chance that single people who have yet to discover their perfect match feel hopeless about ever doing so. If you're in a committed relationship, your significant other may seem distant or uninterested at times. These emotions and this circumstance will pass, so try to take it easy for now.
Gemini: A lot more may be going on in your relationship than strikes the surface. You and your significant other may find yourselves deep in a philosophical discussion as the day progresses. It's possible you'll find out that you both have a history together or that you'll work together in the future on a common purpose. You'll bond more effectively as a result of the breadth of your discussions.
Cancer: Your partnership has stabilised after a rough patch, and you'll both appreciate the calmer atmosphere. As you both gain knowledge and experience, your relationship will strengthen and become closer. If you are single, this may be your chance to finally meet someone you've always looked up to. Involvement is likely to increase more rapidly than you think.
Leo: In order to choose the best course of action, an honest evaluation of your love connection is essential. A gradual distancing from one another might leave you feeling helpless. Finding a middle ground between your partner's wishes and your own can help improve the situation. Don't be so hard on yourself; the only thing that's going to fix this is your undivided attention.
Virgo: When you take some time to think about your romantic goals and dreams, you enter a new mental space. Don't go crazy; these ideas aren't harmful and may help you get insight into yourself. Don't be so naive that you end yourself disappointed by everyone you know. Be in the here and now and open yourself up to new possibilities without letting your feelings get in the way.
Libra: It's likely that you'll be in a more carefree frame of mind than usual today, and you could even want to try some new activities. You and your partner should take the opportunity to make up an experience to share. A change of scenery might do you good. Perhaps a day of staying in and being romantic together appeals to you more. You'll have a greater desire for closeness with your partner.
Scorpio: Today is a day when your romantic prospects are more likely to slip away than ever before, so take charge. With the stress of your job, even your partner's usual demeanour might get under your skin. Relationships can get stale when the two people involved don't make the effort to spice things up by maintaining contact. You need to have some compassion towards your partner.
Sagittarius: This is a great day to deepen your connection with your significant other and find common ground in your lives. You and your partner could learn some fascinating new facts about one other after engaging in some deep and insightful conversation. Maybe you share more similar ground than you realised. You will realise that your doubts and concerns about the partnership were unfounded.
Capricorn: Trust your wits; it's a major selling point for you. Your partner desperately needs your honest viewpoint and grounded perspective as they work through life's challenges. However, it's important to tap into your feelings when necessary to keep relationships from becoming just transactional. The ability to wait patiently is a necessary ingredient for success.
Aquarius: Even if you have a lot on your plate right now, today is all about reigniting the passion in your relationship. As a couple, you want to splurge on activities that will bring you both joy. Today is the day to get imaginative with the ways you pamper your significant other, and you will discover that you are able to reawaken the love and excitement that you first had for one another.
Pisces: Today may be a day where you're inundated with romantic tension, so it's important to work on your attitude. Because your partner isn't acting like themselves, unexpected difficulties may arise. They might lose their temper at any moment, leaving you feeling disoriented. Just give them space for now and try to catch up with them when they're feeling more relaxed.
----------------------
Neeraj Dhankher
(Vedic Astrologer, Founder - Astro Zindagi)
Email: info@astrozindagi.in, neeraj@astrozindagi.in
Url: www.astrozindagi.in
Contact: Noida: +919910094779