Lawyers launch protest across MP; over 50k cases affected
Published on Nov 24, 2015 09:16 PM IST
Court rooms were deserted as 85,000 lawyers practicing across all 51 districts in Madhya Pradesh staged a state-wide strike on Tuesday to protest against the murder of advocate Yogeshwar Garg in Mhow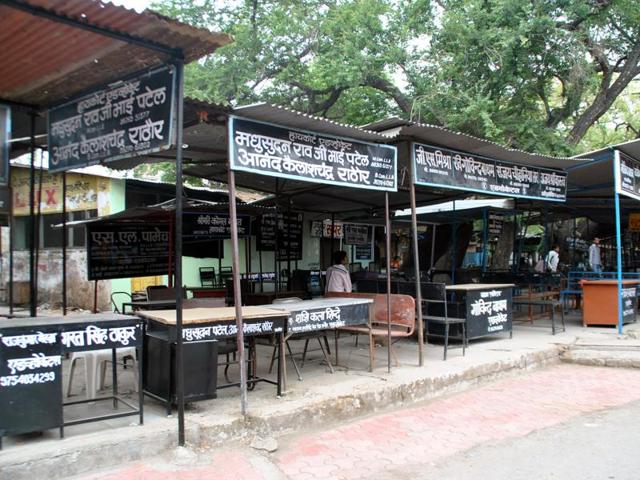 Court rooms were deserted as 85,000 lawyers practicing across all 51 districts in Madhya Pradesh staged a state-wide strike on Tuesday to protest against the murder of advocate Yogeshwar Garg in Mhow on Wednesday.
Owing to the protest, about 50,000 cases listed for hearing in different courts across the state got affected on Tuesday.
The lawyers demanded the state to enact 'Lawyers Protection Act'. They also demanded a change in the advocate's quota in the appointment of additional civil judge. The bandh call was given by the state bar council.
According to sources, about 3,000 cases were listed for hearing across all the three benches of Madhya Pradesh High Court and more than 50,000 cases in lower courts including family courts and consumer forums listed for hearing across the state were affected.
President of High Court Bar Association Indore said, "We work for upholding law and in the process we make several enemies and live under constant threat from anti-socials. The chief minister promised to bring 'Lawyers Protection Act' in 2012, but nothing has materialized yet."
Indore district bar association president, advocate Ravindra Singh Gaud, said, "In this profession, we make many enemies while performing our duties; criminals become our enemy due to their conviction. Given such a condition, an act for lawyer's protection is necessary."
Gupta said, "The attacks on advocates are on rise in state. This has been affecting the morale of the advocates in upholding their duties."
Attacks on Lawyers
An advocate, president of Bar Council's Ujjain wing was shot dead in the year 2013
In December 2014, a city-based lawyer Devendra Khandelwal was abducted and murdered owing to a property dispute case.
Recently a lawyer was killed in Bhanpura town of Mandsaur district.
Last Wednesday, advocate Yogesh Garg was murdered in Mhow.
Personalise your news feed. Follow trending topics