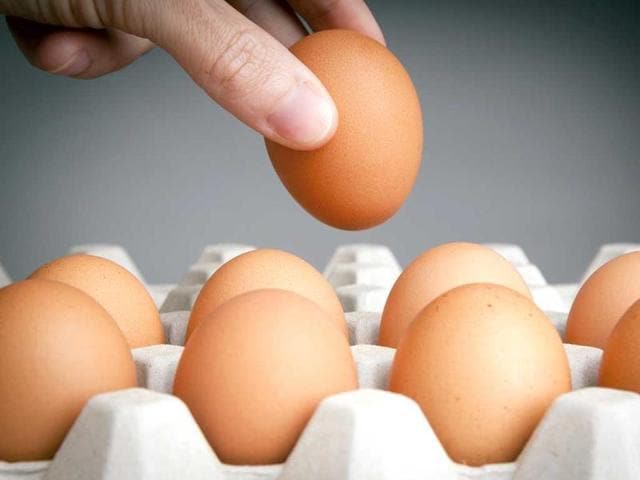 MP Fisheries minister pitches for eggs for non-veg students
Legging up the debate on egg versus milk, Madhya Pradesh cabinet minister Kusum Mehdale on Tuesday made a strong pitch for eggs. The minister said that eggs could be served to non-vegetarian children "if their parents had no problem."
UPDATED ON JUN 24, 2015 07:19 PM IST
Legging up the debate on egg versus milk, Madhya Pradesh cabinet minister Kusum Mehdale on Tuesday made a strong pitch for eggs. The minister said that eggs could be served to non-vegetarian children "if their parents had no problem."
The comments come on the day when Madhya Pradesh government formally announced that sweetened flavoured milk would be served to 29 lakh children through 92,000 anganwadis in the state thrice a week from July 1.
"Milk can be served to vegetarian children, while eggs to non-vegetarian children in the state," the cabinet minister was quoted as saying.
Mehdale, who holds the fisheries development portfolio, told media persons: "Milk is good but there is no harm in serving eggs to non-vegetarian children if their parents don't have any objections. Milk can be served to vegetarian kids." She, however, asked the media not to weave a controversy out of her statement.
This is not the first time Mehdale has issued a statement courting controversy in the backdrop of chief minister Shivraj Singh Chouhan's reiteration of vegetarian anganwadi meal menu.
On June 1, Mehdale had urged people to increase fish consumption in presence of Chouhan in Jabalpur during a state-level fishermen's convention.
Mehdale had urged people to add fish in the diet of their children as it was a good source of protein and could remove malnutrition in areas where fish was available in abundance. She had even sought 'protection' from Chouhan if she faced opposition for urging people to eat fish.
Egg controversy
Shivraj Singh Chouhan drew flak across the country, especially social media, after he shot down a proposal to include eggs in the meals of anganwadi students in three tribal-dominated districts.
Facing criticism on the issue, on June 12, Shivraj Singh Chouhan announced at a public rally at Khurai in Sagar district that all children in anganwadis as well as schools would get milk thrice a week. Chouhan's stand is not new.
In September 2010, Chouhan had vetoed a proposal presented by then women and child development minister to use egg for eradicating malnutrition.
Close