Woman police constable aspirants allege harassment in jail, made to take pregnancy tests in Bhopal
Updated on Jun 15, 2018 12:26 PM IST
They women were arrested when they raised slogans demanding relaxation in the minimum height norm in police constable recruitment test as announced by the chief minister Shivraj Singh Chouhan last October.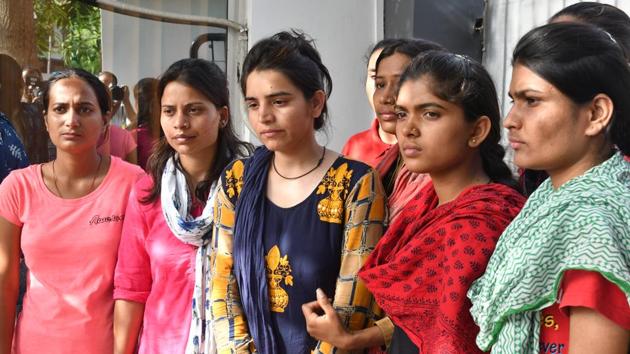 Nine women who were arrested in Bhopal for protesting an eligibility criteria to recruit police constables have alleged they were harassed and made to take pregnancy tests in custody.
Police and jail authorities have rejected the allegations, saying due procedure was followed.
Police had arrested the nine women under section 151 of IPC (gathering despite being told to disperse) during Madhya Pradesh chief minister Shivraj Singh Chouhan's programme at Lal Parade ground in Bhopal on Wednesday evening.
They had raised slogans demanding relaxation in the norm of minimum height in police constable recruitment test as announced by the chief minister last October when a test was conducted for recruiting around 14,000 police constables in the state.
Although Chouhan did not specify any measure, the women, who are in the 19–21 age group, claimed that he had assured that there would be relaxation of three centimetres. They said they were rejected because they were shorter than 158 cm, the height required to get selected, but would have made it if the 3-cm relaxation was made.
After their release from jail on Thursday, the women went to the residence of state Congress leader Deepti Singh and later state Congress president Kamal Nath.
They told media persons that they were subjected to harassment by police and jail personnel. In jail, they had to undergo a pregnancy test without their consent.
One of the candidates, Anju Bhadoria said, "We were treated like criminals. First, police lodged us in a van which drove for three hours in Bhopal. Our mobile phones were taken away. We were not allowed to talk to even our parents. We were taken to jail at night. Once in jail, we were taken into a room where we were asked to go for a simple urine test but we knew it was a pregnancy test. But most discomforting moments were when jail's male personnel peeped into the room."
Kamal Nath said the women had been staging a dharna in Bhopal for the past three days and they went to Lal Parade ground to meet the CM when they were arrested and sent to jail.
In a terse remark, he derided chief minister Chouhan on the way the women were treated.
State Congress campaign committee chief Jyotiraditya Scindia said police forcibly lodged the women in jail for wanting to meet the CM to raise their genuine demand for the relaxation of height criteria.
"Ladli Laxmi ki badi badi baaten karne waali sarkar ab apni hi ghoshnao se mukar kar dadagiri par utar aayi hai (The government which talked of welfare of girls has gone back on its promises and is now suppressing their voices with muscle power)."
Congress leader Deepti Singh said, "The girls were treated as criminals and were subjected to inhuman treatment in jail. Since the girls were bachelors, there was no need for a pregnancy test and it should not have been carried out without their consent."
Deputy inspector general (DIG) of police at Bhopal, Dharmendra Choudhary said, "Charges against police are baseless. In fact, police treated them with sympathy. The police action like arrest and sending them to jail was taken in accordance with law."
The jail superintendent Dinesh Nargawe said, "The medical examination was done as per norms of the jail and there was no question of presence of any male staff during any test in the jail. There was no harassment to the girls."
State BJP chief spokesperson Deepak Vijayavargiya said police acted as per its discretion during the CM's programme as it was the duty of police to see there were no lapses in security arrangements.
As far as the candidates' demand for relaxation in the height was concerned, chief minister Shivraj Singh Chouhan had already made it clear that his announcement would be implemented in the next recruitment drive. Hence, it could not be implemented with retrospective effect.
Personalise your news feed. Follow trending topics