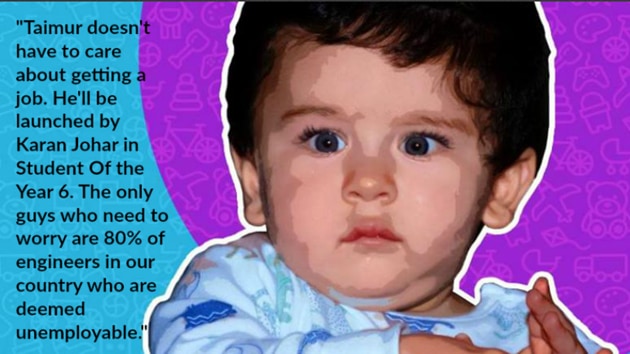 Aadhaar, Padmaavat: Facebook page satirises media's obsession with Taimur Ali Khan to talk about pressing issues
High on satire, the Facebook page uses Taimur's pictures to draw attention to pressing contemporary political and cultural issues the country faces.
UPDATED ON JAN 26, 2018 10:47 AM IST
'Internet's favourite baby', sobriquet for the all too cute Taimur Ali Khan, is in the news again, but not for combing his hair, going on a play date or riding a sledge.
A social media user - and journalist - frustrated with the national attention the royal baby has been receiving since his birth, created a Facebook page titled 'Pictures Of Taimur Ali Khan To Distract You From Real Issues' on Tuesday.
High on satire, the page uses Taimur's pictures taking a passive aggressive tone while captioning them to draw attention to pressing contemporary political and cultural issues the country faces. "I've seen a few friends of mine doing Taimur Instagram compilations for a few reputed organisations. That annoyed me. I have more articles about Taimur on my news feed than actual news stories," says the admin.
The admin chooses to keep their identity, gender and age under wraps but gives a few details for us to build character: Binge watches Community, is a Manchester United fan, and likes rum on the rocks. "As soon as I reveal my identity, people will look at the page with tinted glasses and I don't want the content to be aligned with a particular ideology."
A discussion about India's wealth distribution and their colleagues' complete lack of interest in the same, pushed the admin to create the page. "Apart from this one person, everyone seemed uninterested. One even chimed in with 'Taimur is so cute. He's definitely a Bollywood celebrity in the making.'"
The page that dishes out snippets of what is happening around the country in a snarky fashion has already garnered over 3,300 followers. "People have been very supportive. That's what democratisation of content does to you," says the admin, who eventually wants to create videos for a living.
The admin says they were part of the 'meme revolution' but did not want to indulge in tasteless or community-based satire. "I like how people are finally getting to know of events through my small, 48-hour old page, rather than from mainstream news outlets."
The page runs commentary on everything pertinent - from Padmaavat protests to hiked petrol prices, from engineering colleges making vedas a part of the curriculum to nepotism in Bollywood - accompanied by shots of Taimur's trademark chubby cheeks, wide eyes and toothy grin. Every news titbit is sourced from a report, along with a link to the same.
Even though the page is only two days old, the response has been tremendous, with negligible hate comments. "A few hours ago, I got a message from a person in Tripura about an issue, who chose to contact me because I can get it across to people while our mainstream media is busy fawning over Padmaavat."
The admin says none of the posts are meant to harm Taimur or his parents in any way and needlessly trolling a kid because he was born into a rich family does not make sense. "I won't be tolerating any comments that malign the kid, because he is way too young to be a part of any of this. This page will be an alternative source of information. In our attempt to satirise how news is now being 'peddled' to readers/viewers, let's not indulge in bullying."
A few months ago, a parody Facebook page called 'Humans of Hindutva' took on the right-wing saffron brigade with satire and gallows humour, subsequently becoming victim to death threats and cyber bullying. Does the admin of 'Pictures Of Taimur Ali Khan To Distract You From Real Issues' have an exit plan to deal with a similar situation?
The admin says 'Humans of Hindutva' aligned itself against an ideology, unlike what they are doing. "I'm doing what news outlets are supposed to do - deliver stories that are important. I'm just making it more 'accessible'. If I do start getting bullied, I'll just switch off my laptop and probably go play FIFA for a few hours," they sign off.
Here are some of the page's other posts:
Close