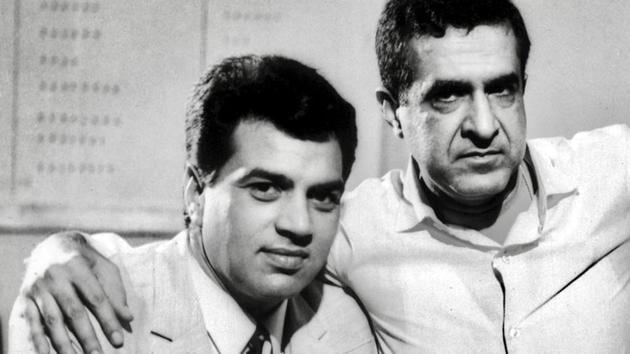 Arjun Hingorani was like my own brother for over 65 years, says Dharmendra
Dharmendra and Hingorani did several films together including Khel Khiladi Ka, Katilon Ke Katil, Karishma Kudrat Ka, Sultanat and Kaun Kare Kurbani.
Indo Asian News Service | By Indo Asian News Service
PUBLISHED ON MAY 07, 2018 09:09 PM IST
Dharmendra is upset ever since he has got the news of the demise of filmmaker Arjun Hingorani, who launched the actor in Bollywood with Dil Bhi Tera Hum Bhi Tere in 1960.
Hingorani died on Saturday night. He was 92. Dharmendra said, "I have been upset ever since I heard that my dear friend director-producer Arjun Hingorani passed away. It's literally the end of an era for me...for Arjun was like my own brother for more than 65 years. We started together. He gave me my first break."
The veteran actor narrated that the first film he signed in Mumbai was Bimal Roy's Bandini. "But that took time to take off. You know how it is (was) with these genius directors like Bimal Roy, Hrishikesh Mukherjee and Raj Kapoor. They take (took) their time in making their films. So while I was waiting for Bandini to happen, I met Arjun Hingorani. He kept saying, 'Main tujhe sign karunga (I will sign you)'. I didn't even know who he was. And why should I have worked with someone unknown when the great Bimal Roy had signed me? But Arjun was inisistent, 'Main tujhe hero banaunga (I will make you a hero)'. I said, 'Chal, banaa (Okay then make me one). That's how my "Dil Bhi Tera Hum Bhi Tere" was made and released in 1960."
"The film flopped but its music by Kalyanji-Anandji was a hit, specially the song 'Mujhko iss raat ki tanhaai mein awaaz na do'. Then for a decade, Arjun didn't make a film with me. He made Saheli without me, starring Pradeep Kumar, and then came back to me with Kab Kyun Aur Kahan. He was very confident of the subject and promised to pay me only after the film succeeded. The spy thriller was a big hit and then began Arjun Hingorani's second innings in the Hindi film industry," recounted Dharmendra, 82.
In hindsight, he is "happy and proud" that he was a part of most of Hingorani's films. "After Kab Kyun Aur Kahan, we did Kahani Kismat Ki, which was another big hit. The song 'Arrey rafta rafta dekho aankh meri ladi hai' is popular to this day. In fact, we -- my sons Sunny and Bobby and I -- are recreating the Rafta rafta song in Yamla Pagla Deewana 3. Salman Khan is also joining us in the song," he revealed.
Dharmendra and Hingorani did several films together; Khel Khiladi Ka, Katilon Ke Katil, Karishma Kudrat Ka, Sultanat and Kaun Kare Kurbani. "Sultanat was Arjun's most ambitious film and he wanted both Sunny and me together in the film. Sridevi was also in the cast. The film was a flop because of its weak subject. Many people said 'Sultanat' flopped because Arjun didn't have a title with three K's in it. It is interesting how superstitious this industry makes you. When Arjun had no success for the first ten years of his career and then Kab Kyun Aur Kahan clicked, he decided it was the 3 K's in the title that did the trick. And he always managed to get the titles with the required K's. I would joke with him to make Kaan Ka Kachcha."
Dharmendra says once Hingorani became a devotee of Lord Krishna, he migrated to Mathura, where he spent his last years. "I missed him. I would call him. But he was in his own world. It's heartbreaking to lose all your friends one by one. It is the love of my fans, friends and well-wishers that has kept me going for so long. I hope that is never taken away from me."
(This story has been published from a wire agency feed without modifications to the text. Only the headline has been changed.)

Topics
Close