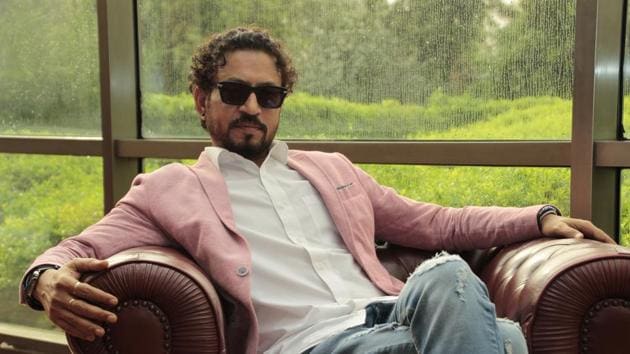 Blackmail: Irrfan is a master in doing less to express more, says Abhinay Deo
Irrfan has been out of action since sometime, and he announced earlier this month that he is suffering a "rare disease."
Indo Asian News Service | By Indo Asian News Service
UPDATED ON MAR 16, 2018 05:03 PM IST
As Abhinay Deo gears up to launch Badla, a song that extensively features Irrfan Khan from his film Blackmail, he says the actor -- mostly known for intense roles -- has his own way to make a funny scene "hilarious". Of late, one has seen glimpses of Irrfan's innate ability to slip into roles with a comical streak in Piku and Hindi Medium as opposed to his more serious side in past films.
Deo, who enjoyed directing the National Award winner in Blackmail, told, "According to me, for an actor, comedy is the most difficult genre to pull off. It's all about timing and in this territory Irrfan is one of the best. It was such a joy to watch him convert a scene which was funny on paper to hilarious as he performed it live. He is a master in doing less to express more. In this film, he had very few lines and that makes it very difficult as everything depends on his expressions. You have to watch the film to see a great actor at his best with that."
Irrfan has been out of action since sometime, and he announced earlier this month that he is suffering a "rare disease". But he did not want the release of Blackmail to be pushed owing to his inability to promote it. So, the makers are going ahead and giving it the "best release" as scheduled on April 6 as per Irrfan's wish.
The film's third song comes out on Friday. "The Badla song is something which is kind of a theme song of Irrfan's character in the movie. You would understand it better when you see the song. Common sense would say why are we doing the event when our principal protagonist is physically not present, but we as makers want to talk about the song in detail. And we would discuss certain facts which become very important in terms of Irrfan's performance and his contribution to the film," he said.
Blackmail also features Kirti Kulhari, Divya Dutta, Arunoday Singh, Omi Vaidya, Anuja Sathe, Pradhuman Singh Mall and Gajraj Rao. It is produced by T-Series' Bhushan Kumar and Deo's RDP Motion Pictures.
Why did they not consider shifting the film's release date? "Irrfan doesn't want us to postpone the film. Bhushan Kumar and I will make sure that Blackmail gets the best possible release. The onus of marketing and releasing the film is now onto us. We took the decision of launching the song only after meeting Irrfan. When I met him, he was very curious to know about the trailer, songs and the dialogue promos that we would be making. His only request was that the film should get the best possible release and it should not suffer because of his absence."
In the past, Deo has helmed films like Game, Delhi Belly and Force 2. He also directed Anil Kapoor's thrilling TV series 24. He says he will direct for the small screen again for sure. "Yes, I will direct for TV again for sure. TV reaches out to a large audience and I think it is one of the most influencing mediums. I would love to make content that challenges peoples intellect,A inspires and educates the viewer socially."
Close