Deepika Padukone clears rumours about her Indian citizenship: 'Never doubted who I am, where I am from'
Apr 29, 2019 05:40 PM IST
Deepika Padukone cast her vote in Mumbai on Monday and shared a tweet to address rumours around her citizenship.
Actor Deepika Padukone has shared a new selfie showing off her inked finger. The actor cast her vote during the ongoing 2019 Lok Sabha election in Mumbai on Monday. Deepika also tweeted a clarification about her citizenship in the tweet, saying that she never had a doubt about her origins.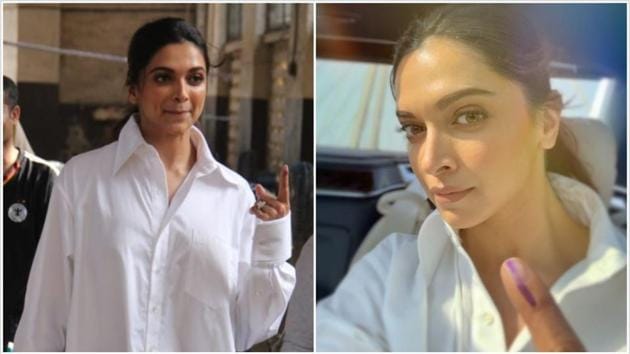 "Never has there been any doubt in my mind about who I am or where I'm from.So for those of you confused on my behalf...please don't be!Jai Hind! #proudtobeanindian #govote," she wrote in her tweet. Deepika seemed to be alluding to the fact that she was born in Denmark, leading to speculations about her citizenship.
According to a report in Bollywood Hungama, the actor recently said at an event that though she was born in Denmark, she still has Indian citizenship. "I have an Indian passport. There are a lot of complications but I'm a proud Indian citizen," she said at a press event.
Also read: Game of Thrones: After that Arya Stark moment, Sophie Turner shares a hilarious, profanity-filled video for Maisie Williams
Deepika's husband and actor Ranveer Singh also cast his vote on Monday. He too took to Twitter and Instagram to share a picture of his inked finger. "VOTE!!!," he captioned the picture.
Recently, even Alia Bhatt was asked about voting but she said that she cannot vote in India as she has a British passport. Alia and her Kalank co-actors Varun Dhawan, Aditya Roy Kapur and Sonakshi Sinha were asked in a recent India Today interview how they can help impact the elections. "By voting," said Varun, Aditya and Sonakshi. But when Alia was asked the question separately, she said, "I can't vote." Asked for a reason, she said, "Passport."
Other actors who voted in Mumbai on Monday included Aishwarya Rai, Abhishek Bachchan, Shah Rukh Khan, Anushka Sharma, Salman Khan and others. The actors posed outside their polling booths, showing off their inked fingers to the camera.
Follow @htshowbiz for more