Happy birthday Alia Bhatt: 11 things we learnt from you (In gifs)
Let's celebrate her 24th birthday with all the things that Alia does and believes in that can teach us to be our true selves. In gifs form, obviously.
bollywood
Updated: Mar 15, 2017 08:06 IST
Alia Bhatt is not afraid to be herself and that is a lesson for all of us. She is beautiful, intelligent, talented, and some fans would say that maybe she is not human after all: She is an angel on earth!
Well, if she is, it might be because she's not afraid to be herself with all her weird and wonderful quirks.
Alia is one of the most inspiring stars out there – not to mention one of the most stylish (See our current obsession with her power braids: We can't shut up about it) and talented (Have you seen her viral video Genius of the Year!). And despite that she manages to be super relatable and a lot like the rest of us. Proof below.
So, let's celebrate her 24th birthday with all the things that Alia does and believes in that can teach us to be our true selves. In gifs form, obviously.
1 She knows how to be edgy and try make-up you've never seen before
Alia knows how to dress her age and look sophisticated, every single time. She also happens to be the ultimate girl-next-door-fashion icon. Alia's mantra: When matching your lipstick to something on your outfit, think outside the box. So, having dark eyebrows doesn't mean you can't also rock dark lipstick. And if you think so, you're wrong. Very wrong.
2She wants to wear comfortable clothes
How often do we become fashion victims? We are obsessed with how we look and what we must wear. Not Alia B. She may be an actress and have to be beautifully dressed for certain roles but when she relaxes, she loves to go around in slogan tees and comfortable shoes. That is most of the time so maybe we should lighten up a bit on the fashion front.
3 She wants to grow her talents
Alia has it made as an actor. She could just sit back and rest on her laurels. But no, she decided to sing in films as well. That is an inspiration for us all to explore our hidden talents. Watch this video to get a glimpse of Alia's talents as a singer.
4 She wants to cheer us all up
Alia is dedicated to getting the best out of life, entertaining her fans with funny photos on Instagram and Twitter and goofing around generally. Why? Because the energy you give off is the energy you receive. And we really think that by always jumping, dancing, singing around, Alia tries to cheer everybody up.
5 She knows that friends are really important
Not all of us are besties with Masaba Gupta and Parineeti Chopra, but Alia is always out and about with her mates. Even though she could have any man she wanted, hanging out with the girls is always top of Alia's list. So, make sure you never loose contact with your best friends and make the most of the time you have with them while you can.
6 She's cool with looking and acting silly
Alia is the queen of silly faces. Her mantra is simple: Don't take yourself too seriously and just be yourself. Trying to be anyone else is a waste of time and if people don't like your style, they're not worth your time. We feel you Alia.
7 She is not afraid to be different
If we were all the same, then the world would be a very boring place. So Alia shows us how to embrace those quirks and be yourself, no matter what!
8 She knows being funny is the best
The best characteristic for a girl to have is humour. And Alia kind of aces that. So if you don't feel that funny, hang around with funny people and they might rub off on you. After all those Alia Bhatt jokes spread like wildfire, the then 21-year-old actress bravely shot a video to give it back to everyone who laughed at her lack of general knowledge.
9 She stands up for herself
Do what you think is right and don't let anyone tell you otherwise. (See Alia's Instagram and Twitter for more details).
10She loves whoever she wants
The great thing about Alia is that she loves everyone, and everyone loves her! And why not?! Love whomever you feel comfortable with, and they will love you back. The perfect life, ain't it?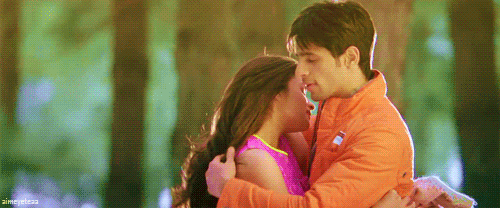 11 She enjoys eating
Who doesn't love a plate of pakodas? There's too much pressure for girls to be skinny these days. Yes it's good to watch your weight in moderation, but a pakoda (or six) never killed nobody. Just look at the girl!
Follow @htshowbiz for more.