Here's everything about filmmaker-couple Gauri Shinde and R Balki's love story
Updated on Sep 26, 2017 05:52 PM IST
Filmmakers R Balki and Gauri Shinde talk about their first meeting and common passion for travel and movies.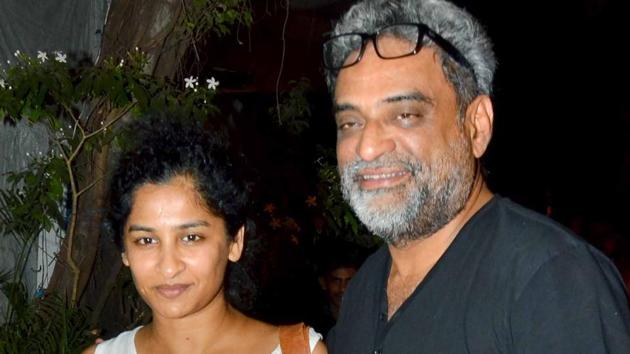 When it comes to imagining R Balki and Gauri Shinde as husband and wife, the first thing that comes to one's mind is, how this creative couple must be like, at home. Are they usually busy cracking ideas for ad and feature films or talk about grocery and leaky plumbing, like other couples? The filmmaker-couple has been married since 2007. While Balki has made films such as Cheeni Kum (2007), Paa (2007), Shamitabh (2015), Shinde has tasted success with English Vinglish (2012) and Dear Zindagi (2016). We asked them some fun questions and got equally amusing answers.
1. Where did you meet for the first time?
Gauri Shinde (GS): We didn't have a proper 'meeting each other for the first time' or something like that. We were both working in the same office, and met there for the first time. And I didn't have anything on mind but work. However, he (laughing, points at Balki) saw me in the lift.
2. So was it love at first sight for you?
R Balki (RB): (smiles back at her before replying) I don't know about her but I found her quite interesting [at first sight].
GS: And when he started pursuing [me], I started thinking about [love].
RB: But I didn't have to pursue much (smirks).
GS: Arrogance (laughs).
3. Who takes the longest time to get ready?
GS: I get bored if I take time to get ready. But yes, he takes longer in the bathroom and I don't know why.
RB: (Smiles again) I don't think either of us takes too much time.
4. What are your dinner table discussions, like?
GB: He eats too fast, like, he will finish his food in 10 minutes, and there is no time to talk. I usually ask him to at least chew more while eating. We also discuss office, day-to-day things, friends, travel plans etc.
RB: But 10 minutes for me is very slow (both laugh out loud).
So, how to eat and that I should not drink water while eating, are our favourite topics of discussion. We also talk about how badly we are living our lives, that we aren't leading a healthy life. We discuss creative things on the couch.
5. One thing you both dislike about each other?
GB: Why just one? I have a list… (laughs and looks at him) I always ask him to eat a little slower.
RB: We are living in a world where we (men) are supposed to shut up. But if I have to say, then it's that we all dislike certain qualities about others, but one doesn't have to say that all the time.
6. And the one thing you like about one another?
GB: This is also a bit of a list. I think the common enthusiasm that we both share for travel and filmmaking. The zest and enthusiasm to create something new all the time.
RB: She is a lot more social about real things, while I live in a fantasy world. She is sensitive as a person. Also, we both enjoy travelling a lot. I remember, sometime back we went to Paris, as I wanted watch a tennis match at Roland Garros. The trip was for [just] five-six days, but then we were enjoying our holiday so much that 22 days passed just like that. We also enjoy going to film festivals to watch new films.
Follow @htshowbiz for more