Here's what Race franchise was all about before Salman Khan and Race 3
Jun 12, 2018 10:51 AM IST
We revisit Race franchise ahead of the release of Salman Khan's Race 3 this Friday.
It isn't hard to make out a Race film. If men are buff with tonnes of gel on their head, you are likely headed in the right cinematic direction. If beautiful but bent women with names such as Alaisha and Omeesha surround them, it has to be either Race or Race 2 -- don't be worried about that added '2', they were essentially the same film. They begin with a dysfunctional family with enough money to set relatives against each other, soon gravity and sanity-defying stunts kick in, then everybody gets busy manipulating each other and it all ends in yet another giant action set-piece.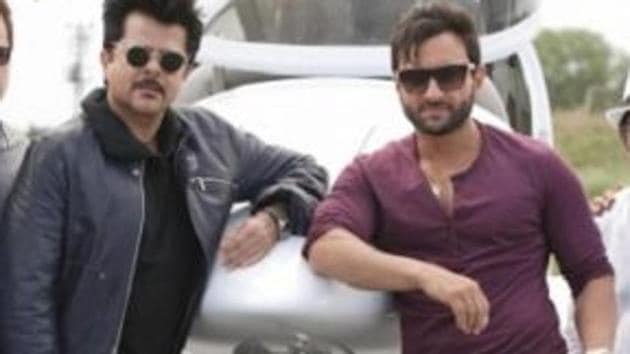 In the midst of all this, the directors ensure that if not their characters' intentions, at least the setting of the movies are pristine. There are also hummable songs and smart aleck-y dialogues and a masala entertainer is born.
Salman Khan, who enters the Race franchise with Race 3 on June 15, has a lot of expectations riding on his back: apart from being a Bhai film that is bound to rake in crores at the ticket windows, Race is also a franchise that has scored big on its own. How will Salman's entry change the franchise?
Race released In 2008, starring Anil Kapoor, Saif Ali Khan, Akshaye Khanna, Bipasha Basu, Katrina Kaif and Sameera Reddy and went on to become one of the top five grossers of the year with Rs 60.83 crore. The film revolved around brothers Ronny (Saif Ali Khan) and Rajiv (Akshaye Khanna). The elder one is a winner and the younger one resents that. He decides to end it all by killing off his older brother, only it doesn't end as he has planned because there are pretty women who have plans of their own. A crooked cop (Anil Kapoor) and the caper was complete.
While the twists and turns in Race were not exactly path-breaking, one could enjoy the style and grace with which the stars carried themselves in the movie. Be it Katrina's beauty, Anil's smart takes on every situation or Akshaye's shrewdness and unbelievable hatred for his brother, the actors ensured you went along for the ride. While critics had mixed opinion about the movie, the audience mostly loved it, thereby making it one of the top grossers of 2008.
Come 2013 and Saif was back with Race 2 - the second film in the franchise and he returned with a majorly new cast. Only Saif and Anil had been retained in the new movie. Jacqueline Fernandez, Deepika Padukone, John Abraham and Ameesa Patel joined to form the new gang dabbling yet again in betrayal and mind games over money.
Abbas-Mustan retained the main elements of Race - glamour played a major role not just in building the women's character arcs but also those of the men. The action sequences, too, were over-the-top, gravity and logic defying - much like the first film. For those who are quibbling over 'our business is our business, none of your business' dialogue in Salman's Race 3, Race 2 had this gem: 'Men are many but money is money'.
Race 2 went ahead to earn Rs 93.48 crore, despite most critics panning the film. Jacqueline Fernandez gained popularity with her song, Lat Lag Gayi, becoming a chartbuster. For those who found the film hard to digest, there was Anil Kapoor's bent cop as the saving grace.
With Race 3, the franchise is likely to enter a new era - it has Salman Khan reportedly in a negative role, it is directed by choreographer Remo D'Souza and introduces Bobby Deol and Saqib Saleem to the franchise. Will Race 3 cater to Race franchise fans or break new grounds?
We will get all the answers on June 15.
Follow @htshowbiz for more