MeToo: Bhushan Kumar files police complaint, wife Divya Kumar says Lord Krishna was targeted too
Updated on Oct 14, 2018 11:14 AM IST
T-Series' chairman Bhushan Kumar has dismissed allegations of sexual harassment against him while wife Divya Kumar defended him saying people were against Lord Krishna too.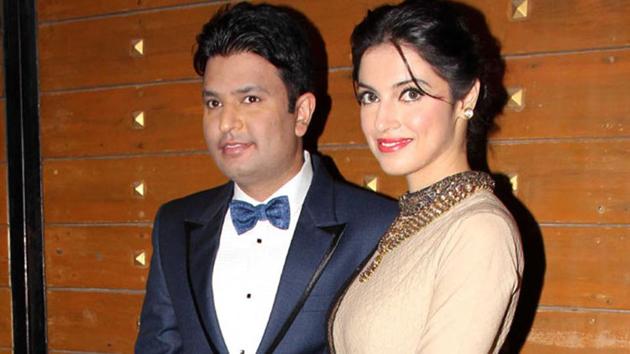 T-Series chairman Bhushan Kumar on Saturday filed a police complaint against an unknown person for levelling sexual harassment allegations against him, reported ANI. Kumar had earlier denied the charges while his wife, actor-producer Divya Khosla Kumar had defended him saying people were against Lord Krishna too.
As part of India's #MeToo movement, an anonymous account had emerged on Twitter earlier this week in which an aspiring actor claimed Kumar demanded sexual favours from her in exchange of signing a three-film deal. Kumar, in a statement to PTI, had dismissed the allegations as malicious.
Divya tweeted her defence of her husband, writing, "My husband has got TSeries where it is today purely on basis of extreme hard work. People even stood up against Lord Krishna who's praiseworthy. Though #MeToo movement is meant to clean up the society, it's sad that some people have started misusing it."
On Friday, he lodged a complaint at Mumbai's Amboli police station, stating that the person was posting offending remarks and statements against him on social media. "My name has been falsely dragged in the MeToo movement, which is currently sweeping the country's landscape," the complaint, dated October 12, stated. "The post makes serious allegations against me that three years back, I had offered an aspiring actress to sleep with me in lieu of a role being offered in my films and when she refused, I dropped her from the films."
The producer also stated that the Twitter handle disappeared minutes after uploading the post.In the ongoing #MeToo movement, many big names, including Vikas Bahl, Subhash Ghai, Nana Patekar, Alok Nath and Sajid Khan, among others have been accused of harassment. Aamir Khan also walked away from T-Series' film Mogul after an old complaint of molestation against its director Subhash Kapoor resurfaced.
Topics
Personalise your news feed. Follow trending topics