Nana Patekar sends legal notice to Tanushree Dutta, demands apology
Updated on Oct 01, 2018 02:37 PM IST
Nata Patekar's lawyer has said that the actor has sent a legal notice to actor Tanushree Dutta for accusing him of sexual harassment.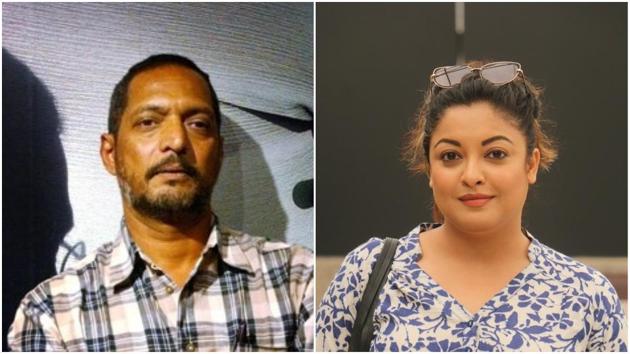 Actor Nana Patekar's lawyer Rajendra Shirodhkar said on Monday that a legal notice has been sent to Tanushree Dutta, claiming that she has levelled false accusations of sexual harassment against the veteran actor. Tanushree has said in recent interviews that Patekar had harassed her during the shooting of their 2008 film, Horn OK Please and also demanded to do an intimate dance step with her.
"A legal notice has already been sent to her and she will receive it today. The notice that I have sent is a standard one — denying allegations and asking for an apology," said Shirodkar, according to a Firstpost report. When the lawyer was informed that journalist Janice Sequeira, assistant director Shyni Shetty, and actor Daisy Shah had corroborated Tanushree's account, he said Nana will soon hold a press conference.
"I can't say much now. I have absolutely no idea why she (Tanushree) is talking about it now but she may be have some reasons to do it. Nana will come to town (Mumbai) today or tomorrow and address a press conference. Let him come back and talk, that is the best way to know. Tomorrow he should be definitely here," added Shirodkar.
Earlier, speaking to the media, Tanushree had said that she is putting together a "team of lawyers and advocates" to defend herself. She had said on Saturday, "Contrary to claims made by Nana's lawyer I have not received any legal notice. So bluffmaster gogo needs to step up his game a bit here. Instead of making empty threats to intimidate me into silence, send me a legal notice and then you will see what I will do with it!!."
Keeping her fight alive against the veteran actor, Tanushree said "bankrupt and corrupt lawyers and advocates" were defending "serial harassers and offenders" in order to attain few seconds of fame. "Despite witnesses coming forward and all evidence in my support, I'm being subjected to criminal intimidation and harassment by Nana's helper. I'm sure this guy has many skeletons in his closet too as birds of a feather always flock together," said Dutta.
Follow @htshowbiz for more
Personalise your news feed. Follow trending topics