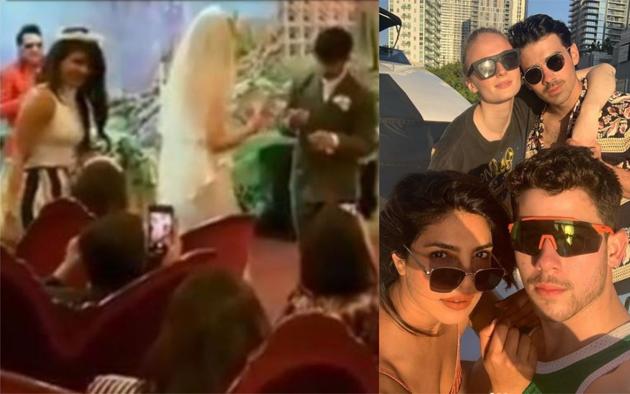 Priyanka Chopra wasn't just a bridesmaid at Sophie Turner's wedding, these were her double duties
Priyanka Chopra has revealed that she had double duty at Joe Jonas and Sophie Turner's impromptu wedding in Las Vegas on May 1.
UPDATED ON MAY 12, 2020 12:08 AM IST
Actor Priyanka Chopra has confirmed that brother-in-law Joe Jonas and wife Sophie Turner will have a second wedding celebration soon, after the two tied the knot in an impromptu ceremony in Las Vegas on May 1. The actor has now revealed details of the surprise wedding and what role she played in putting up the ceremony together.
Talking about her responsibilities at the impromptu wedding, Priyanka told People magazine in an interview, "I was a bridesmaid and a flower girl. Double duty!" Although the actor tried not to reveal too much about the nuptials, she did add, "All I say is it's such a Joe and Sophie thing to do. I mean, trust them to pull something like this off. They're so carefree, so fun, and this is so representative of who they are, you know? It was just so special to be there."
Priyanka recently shared a screenshot of a picture shared by Joe Jonas on his Instagram and captioned it, "U make such a pretty girl @joejonas I love it!" The other girl seems to be Joe playing dressup for fun.
Spilling more details about his wedding, Priyanka had earlier told Access, "It was really funny. We were at the Billboards. Joe, I think, had this idea that he wanted to do this. We were at the Billboards and he had these little black cards that we all got. We were randomly inviting our friends, people that we met. We were like, 'Alright, we're going to set up this wedding now, we're going to the chapel right from here, and please arrive.' We had Diplo, Khalid, they were really sweet, they arrived. Diplo Instagram Live-d the whole thing, it was awesome."
+ +
The Bajirao Mastani actor had revealed that she cruised around Las Vegas with husband Nick Jonas post the nuptials. Calling it a Jophie night, she said, "It was so funny! I mean, we were driving around this pink Hummer limo. I was outside the window. It was just epic. I had that long hair extensions that I thought was going to fly out of the window."
Also read: Kim Kardashian welcomes fourth child with Kayne West via surrogacy, says 'he's perfect'
A video of the Christian ceremony that took place at the Little White Chapel in Las Vegas showed Sophie and Joe exchanging their vows, read to them by an Elvis Presley-impersonating officiator. Priyanka could be seen sitting right next to the couple with Kevin Jonas' wife Danielle. The video also showed Sophie looking for her bridal bouquet which Nick hands it to her in a jiffy.
Follow @htshowbiz for more
Close