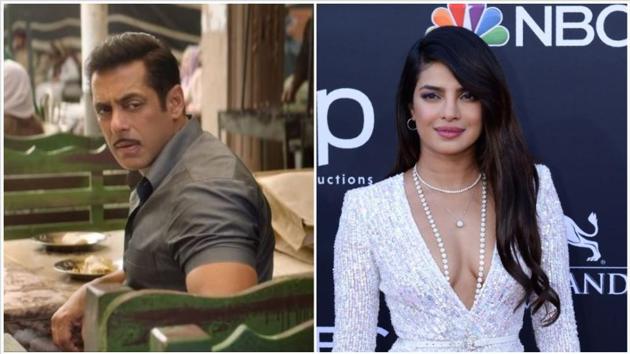 Salman Khan on how Katrina Kaif got just two months to prep for Bharat: 'If only Priyanka Chopra gave us more time'
Salman Khan took a dig at Priyanka Chopra for quitting his film Bharat at a short notice last year.
UPDATED ON MAY 08, 2020 06:09 PM IST
While Bharat director Ali Abbas Zafar has said that there is no bad blood between him and actor Priyanka Chopra, the film's lead actor Salman Khan does not appear to harbour the same feelings towards her. In a Facebook live chat with Ali and film's female lead Katrina Kaif, Salman talked about Priyanka's decision to quit the movie. Twice.
Ali, who hosted the chat, asked Katrina about her prep for the role. "I had two months to prepare once we cracked the physicality and hair, everything fell in place," she said. However, Salman interrupted her and added, "Priyanka didn't give us much time." Katrina was roped in as the female lead after Priyanka quit the film few weeks before the beginning of the shoot. Ali had tweeted about her exit and hinted that her wedding with American singer Nick Jonas might be the reason for it.
WATCH: Carefree Salman Khan spotted cycling on Mumbai roads
Salman mentioned Priyanka again during the chat session. "Yes, Katrina Kaif worked really hard to prepare for the role. If only Priyanka Chopra gave us more time." Ali then quickly jumped in saying, "Next Question."
Salman had previously taken sly digs at Priyanka for quitting the film. After quitting Bharat, international media reported that Priyanka had signed Cowboy Ninja Viking with Chris Pratt, a film that was later shelved. He spoke about Priyanka choosing Hollywood stars over him at the trailer launch of Loveyatri in August last year. While Salman said the team was supportive of her for doing good work, he also said it was her choice if she wants to work with him or a 'bada hero' from Hollywood. "We said of course, if you don't want to do it, don't do it. We were given different reasons back then. But whatever the reason may be, the wedding, the movie, or if she doesn't want to work in an Indian movie, or doesn't want to work with me, or work only in Hollywood film and TV, these are her reasons. We are really happy and supportive about her doing good work," he had said. "So what if she doesn't work here? She is making India proud out there. If she doesn't work with Salman but works with a big hero in Hollywood, she is making India proud," he had added.
However, Ali recently revealed that he and Priyanka are good friends. "Priyanka was doing the film but things happened. As a friend, she shared it with me and I told that her life is most important. She's still a close friend. We laugh and talk twice a month. I'm very happy for her," he told Mumbai Mirror.
In another interview, Katrina said that she, and not Priyanka, was always producer Atul Agnihotri's first choice for the film. "Atul has always been very supportive and really wanted me to do the film. And in the end, that's what happened. Yes, Salman and I share great chemistry, but when I walked onto this set, I was very clear that the script demanded a different kind of dynamics between us and I had to maintain it," she said.
Bharat is an official adaptation of the 2014 South Korean film Ode To My Father. The film also stars Sunil Grover, Nora Fatehi and Disha Patani. Jackie Shroff is essaying the role of Salman's father. It releases on June 5.
Follow @htshowbiz for more

Close