Vikas Bahl's ex-wife says Kangana Ranaut misusing MeToo, actor responds
Vikas Bahl's wife has targeted Kangana Ranaut after the actor claimed the Queen director behaved inappropriately with her.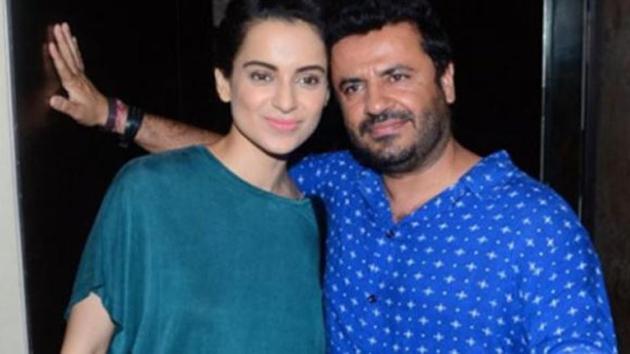 Updated on Oct 13, 2018 02:38 PM IST
Filmmaker Vikas Bahl's ex-wife Richa Dubey claimed that Kangana Ranaut was misusing the #MeToo movement after the actor accused the Queen director of sexually inappropriate behavior. Bahl has been accused of sexual harassment by a former Phantom employee and actor Nayani Dixit.
Dubey took to Twitter on Friday and questioned Kangana, who has worked with Bahl in Queen, on why she continued to be friends with the filmmaker despite his inappropriate actions. "This is going beyond boundaries and tolerance level now this is not a #MeToo but a meme. I want to ask all the women if a man makes you uncomfortable and touches you inappropriately would you have a good friendship with that man?" she wrote.
Dubey added that "would you not cut ties with that man and make your interaction minimum with that person? Or would you still giggle and go out wining and dining with that person or because you want to work with that man because he is good at his work."
Dubey then mentioned certain "loopholes" in the actress's story that included performing together (Kangana and Vikas) an "item number" at Madhu Mantena and Masaba Gupta's wedding in 2015 to sharing "extremely friendly messages" till date. "You are willing to bypass this? Especially when you are strong, fearless and a gutsy person... I don't understand this at all."
Bahl was accused by a woman, who was a previously employed by Phantom Films, of sexually harassing her repeatedly after the first incident in 2015 in Goa. Phantom Films -- co-founded by Bahl with Anurag Kashyap, Vikramaditya Motwane and Madhu Mantena -- was dissolved last Saturday after the allegations.
Post that, Kangana had alleged that "there was something wrong with" Bahl. "I often told him off. He was scared of me but still every time we met socially greeted and hugged each other, he'd bury his face in my neck and hold me really tight and breathe in the smell of my hair. It took me great amount of strength and effort to pull myself out of his embrace," the actor said.
Dubey slammed the actress and says that "this is not a #MeToo but a meme". She concluded by saying that she was not interested in a media battle with Kangana and asked her to stop.
Meanwhile, Kangana hit out at Richa and told a leading channel, "Another ex-wife for her ex-husband's rescue. My only question is, why do they leave their holier-than-thou husbands in the first place? Stop this bullsh*t that we had a friendly divorce, perfectly amicable, and we are a family. You don't wake up one fine morning and divorce a godly man, so please help us secure our work environment and make sure these men don't spoil more lives."
Topics
Close Story