Yes, it's true, people! Brand Bhagat kills this girlfriend
Hindustan Times |
, New Delhi
Dhruba Jyoti Purkait
Oct 28, 2014 04:00 PM IST
Brand Bhagat may rake in the millions but doesn't possess the college-carefreeness of his earlier books. Wherever you are, the real Chetan Bhagat, please come back.
Picking up a Chetan Bhagat in a public place can be daunting. People look at you with a mixture of pity and judgment, questioning not just your taste in literature but choices in life.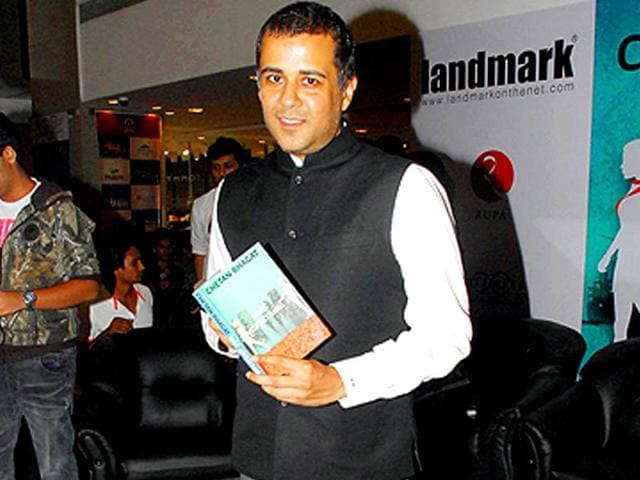 A man standing next to the railway stall at New Delhi station jeered, 'He's very popular with your generation, no?" as I picked up Half Girlfriend for an overnight journey to Dehradun.
The power of most-read writer was apparent in my coupe, where four people were reading the book. Helped in keeping the lights on till way past the bedtime of middle class Indian couples.
I must admit, I was more than a little curious by the title- did the book encompass the small heartbreaks and the untold crushes most of us in school and college. Also, the book, steeply priced by Bhagat's standards at Rs 176, maybe was a sign of a writer growing in confidence?
Sadly, the confidence is less in the writer and more in Brand Bhagat, the reason I had to give a miss to his last, What Young India Wants. Bhagat's hero hails from Bihar, refreshingly isn't ashamed of it and wants to go to St Stephen's. Having gone and dropped out from elite English-medium institutions, I know this makes for a cracker of a plot.
Madhav, the protagonist, is immensely likeable, tall and handsome, and isn't scared of facing stiff-upper lip professors while falling in love with Riya. The train's not even out of grubby Ghaziabad and we're rooting for the hot underdog.
Which is where it all falls apart. Throwing gems like "ignore girls and they can't leave you" and "An army of men cannot solve the riddles created by an indecisive woman", Bhagat tries to recreate a grand class war, where Madhav takes on the might of his half-girlfriend's family, the Somanis, with English representing the apparent wedge between them.
Except, Madhav isn't that poor or rustic. He's a prince in front of whom villagers prostrate themselves and Bhagat's constant interruption of college life to insert commie-war-hero lines is jarring, mainly since neither hero nor heroine seems interested to wage a false battle. I suspect Bhagat had thought the branding of "English is the new caste system" before writing. It's ill-fitting.
Still, there are some vintage Bhagats- where Madhav is insanely jealous of Riya's firang- return childhood friend-turn-husband- wanting to throw him into the pool while ruing "Why couldn't I think of lines like that". But they are too few and disappear completely in Bhagat's Swades-esque second half.
It must be resentment of being upstaged by Aamir Khan as the civil society messiah that makes him yank out Mohit of Delhi into Bihar where the reluctant prince (Rahul Gandhi alert?) solves drinking water problems and discovers real India, all by the way of Bill Gates Foundation.
Riya resurfaces to teach Madhav English then promptly leaves, telling him she's going to die in a week. And he believes her, only for Bhagat to enter to show him the light. I understand big egos but making your characters say they read your books and giving yourself a key role in the book must be the pits.
By the time love triumphs in New York (since Bihar is too LS?), Madhav isn't left with much of the original charm and it's the doing of the author. Bhagat punctures his own story-telling with plugs for his brand, his youth-loving, activist messiah role. Madhav and Riya are the casualties in a brand war that stereotypes rural people as a misogynist, backward breed.
I read Five Point Someone when in college and was thrilled. That someone could leave pretence and just narrate their story in language we all speak was liberating and exciting. Somewhere down the line, Bhagat abandoned his strength and was convinced by PR that he must market himself. In the process, he decided everyone who doesn't know English must speak a certain way, have similar social statuses, regressive ideas of women and relationships.
It is always sad to see a phenomena fall. It is worse when one knows the fall was his own doing. Brand Bhagat may rake in the millions but doesn't possess the college-carefreeness of his earlier books. Wherever you are, the real Chetan Bhagat, please come back.