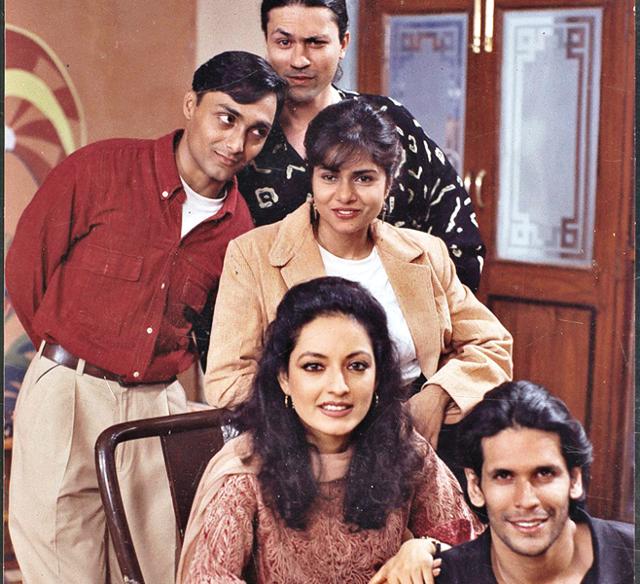 Milind Soman and Samir Soni relive 'A Mouthful Of Sky'
"We rarely ended episodes with hooks; we didn't need those to make the audience return to the show," remember actors Milind Soman And Samir Soni about A Mouthful Of Sky.
UPDATED ON JAN 09, 2016 08:03 PM IST
What made you take up the show?
Milind Soman: I was never interested in acting. My friend Devika Motwani, who was part of the project, asked me if I was interested. What prompted me to take up the project was that it was in English! I had just done a few music videos and was still not too comfortable talking in Hindi.
Samir Soni: I joined much later. I auditioned and got picked for the role of Ashok Mathur, who turns out to be the main villain. Although my character was introduced after almost three months, his voice was already there. It was not a random import from nowhere, as is the case with characters in today's television serials. And of course, I had Kamal Sidhu opposite me, who could have said no to that? Almost all the top models were there in this one show!
What was shooting for the show like?
Soman: Some of us had done ad films and some had a theatre background, but it was our first brush with television. We had an idea about cameras, but the dialogue part was very new, and exciting. Initially, none of us – except Mahesh – had much clue about where the story was headed. We would often improvise. We began with the reunion and the story took shape slowly, and based on audiences' reactions to the characters and subplots were developed.
Soni: We had a multiple camera setup and the whole scene would be shot at one go with the director keeping a check on all the cameras and cutting from one to the other. It was quite an experience.
So, what happened after the show?
Soman: I did Captain Vyom and produced Margarita after that and then most of us got busy with other stuff. The last TV series I did was Noorjahan, almost 16 years ago! I don't have much idea about how TV serials work these days, but it takes up a lot of time – almost 20 to 25 days a month. But if someone comes up with an interesting concept that requires me to shoot for around 10 days, I might just take it up.
Soni: I have done quite a lot of TV after that, but these days, things are different. For A Mouthful of Sky, we rarely ended episodes with hooks; we didn't need those to make the audience return to the show. These days a scriptwriter works on 10 shows simultaneously – but at that time, there was just one writer working on one script at the time. So each story was markedly different.
From HT Brunch, January 10, 2016
Follow us on twitter.com/HTBrunch
Connect with us on facebook.com/hindustantimesbrunch
Close