Demand has not gone away, people have just deferred discretionary spending: SBI chief Arundhati Bhattacharya
Published on Dec 29, 2016 08:43 PM IST
On the eve of the expiry of one of India's most bold economic measure since 1991, the chairman of India's largest commercial bank is confident that demonetisation would benefit. But she is candid enough to admit that the corporate loan book and SMEs are worrisome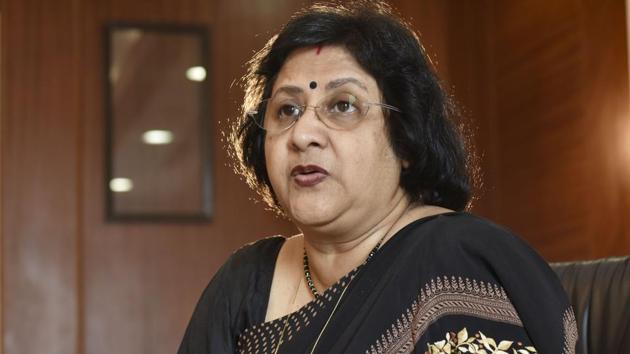 Hindustan Times |
Beena Parmar and Ramsurya Mamidenna
Arundhati Bhattacharya has a hectic schedule, even as the rest of the world else is busy making plans for the year-end. But she doesn't show it. On the eve of the expiry of one of India's most bold economic measure since 1991, the chairman of SBI, India's largest commercial bank, is confident that demonetisation would benefit. But she is candid enough to also add that the corporate loan book and SMEs share some concerns. Excerpts from an edited interview.
How have the last two months been?
Inordinately busy. Of course there is still a lot of uncertainty and the quicker it ends, the better it is for everybody. Now, people are more comfortable and less worried. We are beginning to see that…if you go out in markets, crowds are coming back. In a restaurant that I went this weekend, things were back to normal. Even in shops, sales are back. It used to be 30% in credit earlier, this has increased to 60%.
In villages, too, the stress of last month has come down. In SMEs (small and medium enterprises), we are seeing some concern as there is less offtake, but not so much in agriculture. There is stress where perishability is a big factor, but other than that, the way it was feared to impact, it hasn't. It will be easily reversed.
It takes time to change business models. Clearly demand has not gone away, but people have deferred discretionary spending. Once that comfort level comes back, demand will definitely reassert itself.
In what time frame do you see demand returning?
I think by March most things should be back to normal. Maximum by June there will be complete normalcy.
But GDP growth has also been impacted?
GDP growth in the third quarter will fall, in the fourth quarter also it may not come back to normalcy. Our in-house research has predicted 6.7% (growth). It's probably going to be closer to 7%, instead of 7% plus growth.
There is also the school of thought that some of the unorganised sector, which wasn't part of the system, could come into the formal channels?
I think that is right mainly because there is quite a bit of sales going outside of the revenue net. If this becomes part of it then obviously, revenue collections will be robust. Then overall rates tend to come down, because the burden is shared by more people.
When more people get into the formal system, better is their ability to access and grow. Today, because they are out of the formal financial system, they get funds at very high rates. According to the 2011 census, 94% of SMEs are outside the formal system. Businesses run at very high costs and hence margins are very thin. Once they get into the formal system, they have the ability to leverage their full earnings and access money. Even if 44% of that 94% comes in, it's a huge advantage. This is the big picture that people favouring demonetisation are looking at.
But don't you think all this is at a big cost?
What cost are we talking about? Cost of replacement of notes? That is one-time. Another cost is also the inconvenience, but every big move will have a cost. Yes, we had to manage without cash for a few months, but majority didn't face as much difficulties.
The availability of cash is still an issue ….
See, the availability of cash is restricted going by the printing capacity. When you are taking out so much cash in circulation, you have taken ₹15.44 lakh crore out of the system, to replenish that will take time because you just have four printing presses.
When do you think the withdrawal limits should be removed?
There is no time frame but there is physical limitation of availability of cash. I think if we remove the limitations suddenly, there will be sudden rush because we cannot anticipate the appetite of the people.
What is the status on bad loans?
At this point nothing out of the ordinary, but we will know it better after two months. Agreed, some of the focus had taken a backseat, but it was just for three to four weeks, not too long.
Do you think our digital payment infrastructure is still underprepared?
Yes, of course our payment infrastructure needs to be ramped up, but we have seen what we didn't do in 1.5 years, has been done in a space of 4 weeks. We have seen 300% better utilisation of cards, shopkeepers getting 60% credit, all this is quite a push. People selling vegetables, pani puri on the roads are using wallets now. So more people coming into the formal channel. Earlier, I did not know how much the pani puri vendor made and so I could not give loans. Cash is a very inefficient payment system as it has a lot of costs –printing, sending it, issuing, getting it back, recounting, reissuing, etc… Today the digital medium is so much more cheaper.
Was digital the main objective then?
The exercise was not with a narrow purpose…it was also done keeping digital in mind, to get more financial inclusion. People using Pradhan Mantri Jan Dhan Yojana (PMJDY) for loans is still low, but the average balance is ₹1,485…before, the average balance was R1,350. So people do want to save more.
How is the demand for loans from the corporate side?
The corporate loan book is not seeing much demand, it will take a little longer. We were optimistic it would happen during the second half of this year.
Any suggestion to the government?
We have requested the government that the term loans, which were due in these two months, could be back-ended. Traders have also asked to increase the cover for receivables period. So if the receivables were covered for 90 days, we could extend that a little more. Some of the dealers need more liquidity as the cash they had deposited cannot be withdrawn. So they need more credit, for which we don't need to go to the RBI, and will have to do it ourselves.
What about interest rates?
Rates will come down because of surplus liquidity.