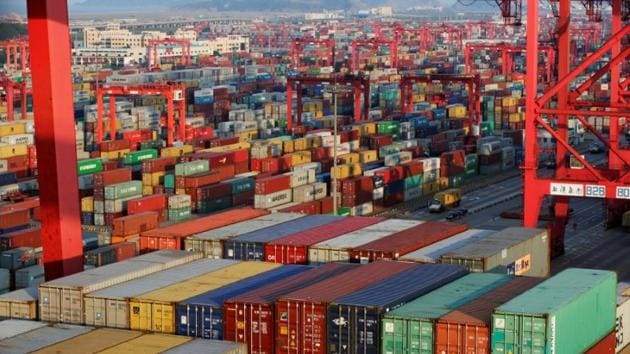 Trade war deepens: China hits back at US with tariffs on soybeans, planes, autos
Unlike Washington's list, which was filled with many obscure industrial items, China's list strikes at signature US exports.
UPDATED ON APR 04, 2018 11:35 PM IST
China on Wednesday retaliated against planned US tariffs on $50 billion in Chinese goods by announcing matching duties on 106 American imports such as soybeans, planes and chemicals, intensifying trade tensions between the world's two largest economies.
Beijing's list included new duties on US goods such as cars, cigarettes, wines, plastic, orange juice, wheat, beef and cotton. The finance ministry said imports from the US worth $50 billion "will be subject to higher tariffs".
"The Customs Tariff Commission of the State Council has decided to impose additional tariff of 25% on 106 items of products under 14 categories," the ministry said.
China's action came less than 11 hours after the Trump administration proposed 25% levies on 1,300 Chinese goods ranging from aerospace and robotics to information and communication technology and machinery. The speed at which tensions between Washington and Beijing ratcheted up led to a sharp selloff in global stock markets and commodities.
| Read: Sensex sheds over 300 points, Nifty near 10,150 amid trade war concerns
The tit-for-tat actions by the economic superpowers triggered fears of a full-blown trade war but US President Donald Trump rejected the notion. "We are not in a trade war with China, that war was lost many years ago by the foolish, or incompetent, people who represented the US," Trump tweeted.
China's finance ministry said its action was triggered by the US administration's proposed list of products subject to additional tariffs. "The date of implementation will depend on when the US government imposes the tariffs on Chinese products," the ministry said. As the actions won't be implemented immediately, there could be room for manoeuvre. The publication of the US list started a period of public comment and consultation expected to last two months. China's tariffs will kick in only when the US action takes effect.
China's finance ministry published the list of 106 items on its website, with officials lashing out at Washington's plans to impose new tariffs on 1,300 Chinese products. The Chinese list also included whiskey, cigars and tobacco, lubricants, propane, trucks, some SUVs and electric vehicles. The Chinese commerce ministry joined in, saying the US move was "an evident violation of relevant rules of the World Trade Organisation (WTO)".
Chinese foreign ministry spokesperson Lu Kang said in a statement the US tariff proposals are "a typical unilateralist and protectionist action". Separately, the foreign ministry said China is open to dialogue and negotiations on the issue.
"In fact, China and the US have been in talks on the relevant issue. I am honest with you that in pursuing dialogue and consultation, China is 100% sincere and has done enormous work," Geng Shuang, another foreign ministry spokesperson, told a regular news briefing.
"We hope the US side could have a clear understanding of the current situation, remain level-headed, listen to its business community and general public, discard unilateralism and trade protectionism as soon as possible, and work with China to resolve trade disputes through dialogue and consultation," Geng said.
US commerce secretary Wilbur Ross told NBC it wouldn't be surprising if the trade actions by the two sides led to negotiations, though he would not speculate on when this might happen.
The US targeted products that benefit from China's industrial policy, including its "Made in China 2025" initiative to replace advanced technology imports with domestic products, while Beijing's actions appeared aimed at inflicting political damage.
The US Trade Representative said its action stemmed from an investigation ordered by Trump that found China forced American companies to transfer their technology and intellectual property to domestic enterprises.
There had been considerable speculation whether China would target soybeans, which it buys in huge quantities from the US. Trade in soybeans was worth almost $14 billion last year. China is the world's largest importer, and the biggest buyer of the oilseed from the US.
| Read: US list of $50 billion tariffs aims at technology, China vows to retaliate in equal measure
Close