'Called rude, greedy…': Shark Tank India contestant alleges trolling over pitch
Jan 16, 2023 07:23 PM IST
Yushika Jolly, CEO of Paradyes, appeared on Shark Tank India Season 2, and her investment pitch led to a fight among the sharks. Here's why
Yushika Jolly, the founder and chief executive officer of semi-permanent hair colour making startup Paradyes, appeared on reality TV show Shark Tank India Season 2.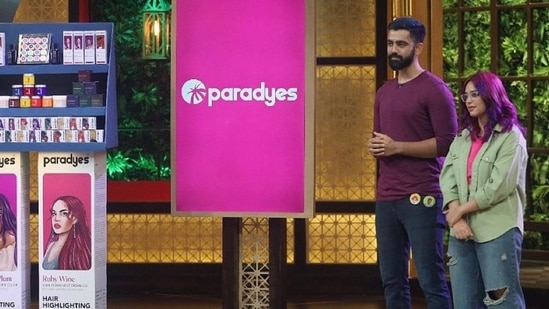 Her investment pitch led to a fight among the sharks, before she and her husband Siddharth Raghuvanshi decided to go with boAT co-founder Aman Gupta and SUGAR Cosmetics CEO Vineeta Singh at an offer of ₹65 lakh for two per cent equity in the company. Lenskart CEO Peyush Bansal had offered ₹65 lakh for 1 per cent equity.
Now, Jolly has alleged she has been subjected to hate and abuse on the internet. She alleged her DM is flooded with trolls calling her "rude, manipulative, greedy, unprofessional".
"I'm starting to believe that we, as a country, despise women for being assertive and having opinions," she wrote on LinkedIn, claiming that hateful comments were posted on her personal page as well as the brand's account.
Defending the decision to accept the lower deal, the 26-year-old CEO said that they wanted to bring in sharks which suited their interests and that she knows her "business better than any keyboard warrior".
"We could have chosen Peyush if we were truly that 'greedy'... please go and build your own business and only then will you realise how important even 1% is," she added.
Jolly, however, said the controversy helped the brand resulting in sales being doubled on the website and specific marketplaces. She added that Paradyes' Instagram page followers rose by 9k over a span of two days and its website clocked a spike of 20 times the traffic. "I believe that being on Shark Tank will change the game for us and cause you to see us much more frequently moving forward," Jolly concluded her post.
boAT co-founder Aman Gupta, who is a co-investor in Jolly's brand, came out in full support of her. He praised Yushika's confidence and advised her to "focus on the positives", like her brand achieving traction, and ignore the negative chatter.
He also spoke about how a "shark fight" is rare on the show, which points towards the potential and power of the entrepreneurs and startup.
"You did what was right for your business and your customers. That's what matters at the end of the day…You be you and stay strong," he added in the heartwarming note.
Paradyes - India's first semi-permanent hair colour brand - as their website states, is based out of Ahmedabad, and was launched in March 2021. It currently provides over 20 hair colours which last for about 8-10 washes, according to the co-founders.
Hosted by comedian Rahul Dua, the second season of Shark Tank India, which began earlier this month, airs on Sony TV from Monday to Friday at 9 pm. The Indian version of US reality show Shark Tank, made its debut a year ago