GDP estimates to release today: All about the new formula
The government will release the national income estimates for 2014-15 on Friday amid a raging debate over a new formula that was unveiled earlier this year.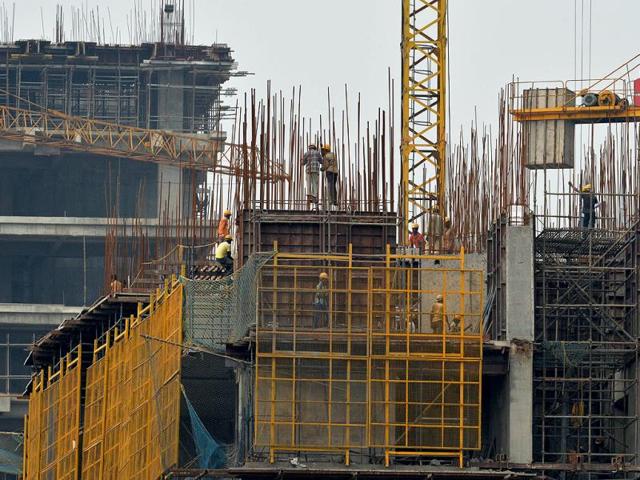 Updated on May 29, 2015 09:43 AM IST
Hindustan Times |
, New Delhi
Gaurav Chaudhury
The government will release the national income estimates for 2014-15 on Friday amid a raging debate over a new formula that was unveiled earlier this year.
In January the Central Statistics Office (CSO), using a new method, said that India's real or "inflation adjusted" GDP in 2013-14 grew 6.9% instead of the earlier 4.7% and by 5.1% in the year before compared to 4.5% in the earlier system.
Advance estimates for 2014-15 released in February projected India's GDP during the year to grow at 7.4%, making it the world's fastest growing economy surpassing China.
This has stumped both experts and the non-initiated.
Data from other sources such as household spending, corporate earnings and tax collections and sales of goods and services are weak and do not mirror the revival trends seen in the GDP numbers.
All eyes will be on provisional GDP estimates that the government will release on Friday at 5.30 pm.
Here's all you wanted to know about the debate:

What is GDP?
Gross Domestic Product or GDP represents the total value of all the final goods and services that are produced within a country's borders within a particular time period, typically a year.

What is real and nominal GDP?

It is important to distinguish between nominal GDP and real GDP. Nominal GDP is calculated at current prices and does not factor in inflation. Real GDP is GDP adjusted for inflation.
According to latest estimates India's nominal GDP in 2013-14 was Rs 113.45 lakh crore and according to advance estimates will reach Rs 126.53 lakh crore in 2014-15

Is GDP a qualitative or quantitative metric?
GDP is a purely economic measure and does not say much qualitative aspects such as general the standard of living.
A greater GDP could also mean that much of the growth in income may have been driven by the rich.
What is a "base year"?
The base year of the national accounts is the year chosen to enable inter-year comparisons. It is changed periodically to factor in structural changes in the economy and present a more realistic picture of macroeconomic aggregates The new series changes the base to 2011-12 from 2004-05.

What is the difference between the earlier and new formula for calculating GDP?
Earlier, the index of industrial production (IIP) or factory output served as the primary metric to gauge manufacturing and trading activity. The problem was, it only counted the number of units produced and did not distinguish between say the value of a luxury car and an entry-level hatch-back.
It is possible that factory output would have remained stagnant over a period of time, but its value would have multiplied.
The best example is a car. You can keep selling the same number of cars, but keep improving the quality so the value goes up. An even better example than cars is computers.

So, what's the difference now?
Earlier, organised industrial activity was based on IIP. It used to get updated two years later based on data coming in from the Annual Survey of Industries (ASI). This has limitations, as ASI only captures goods' value at the factory gate, and that too only of firms registered under the Factories Act.
Now, the corporate affairs ministry's MCA21 records, a comprehensive compendium of balance sheet data of about 5,00,000 firms, is used. This captures value added by activities even such as marketing, which can be significant for large companies such as HUL or L&T.
Is the difference very high?
Critics have questioned the new methodology as it shows that manufacturing has grown at 5.3% in 2013-14 compared to 0.7% earlier. According to critics, theoretically you can justify this divergence. But it is hard to reconcile with ground level data.
According to CSO officials, the divergence is because of the MCA 21 records have brought to light a segment of organised activity, which was earlier, for the most part, invisible.
This is the lower end of the corporate segment. These are not companies which are not listed in stock exchanges. This category of companies was virtually invisible in our earlier analysis.

What about calculation of labour income?
Likewise, earlier all labour used to be equal.
Not in the new series where different weights are assigned on whether one was an owner, a hired professional or a helper using a method called "effective labour input."

And agriculture?
Value addition in agriculture is now taken beyond farm produce. Livestock data is critical to new method. Value attached to byproducts of meat including "heads and legs", "fat" "skin", "edible offal and glands" of cattle, buffalo, sheep, goat and pig.
What about calculating value of trading related services?
The new series uses NSSO's 2011-12 establishment survey, compared to the 1999 survey data used in the earlier series. The latest survey showed that value addition in trade was significantly lower than what was being projected in the old series, which used extrapolated data from a survey conducted in 1999.
Does the new data robustly capture income generated by the financial sector?
Financial corporations in the private sector, other than banking and insurance, in the earlier series was limited to a few mutual funds (primarily UTI) and estimates for the Non-Government Non-Banking Finance Companies as compiled by RBI.
In the new series, the coverage of financial sector has been expanded by including stock brokers, stock exchanges, asset management companies, mutual funds and pension funds, as well as the regulatory bodies, SEBI, PFRDA and IRDA.

What about local bodies and autonomous institutions?
Earlier, estimates for local bodies and autonomous institutions were prepared on the basis of information received for seven autonomous institutions and local bodies of four States – Delhi, Himachal Pradesh, Meghalaya and Uttar Pradesh. In the new series, there has been an improved coverage of local bodies and autonomous institutions, covering around 60% of the grants/transfers provided to these institutions.

How can the economy contract when more data is captured?
India's new method to calculate gross domestic product (GDP) has marginally reduced the economy's size by Rs 10,000 crore to Rs 113.45 lakh crore in 2013-14 against Rs 113.55 lakh crore in the old data series.
According to the official number crunchers at CSO this anomaly is because of flaws in the earlier data on unorganised trade, which is drawn from the NSSO's establishment survey. The last such survey was in 2011-12. It was found that the value added in trade in 2011-12 was significantly lower than what CSO had been projecting in the old series. Principally that's what explains the shrink in the size of the economy in 2011-12 and later in the new series compared to the earlier series.

So, did India grow at 9%-plus or higher earlier?

In the absence of data going back several years, it could be erroneous to fit a trend.
As the product basket has changed we can never get the actual production and price numbers. It will have to be an extrapolation which will be statistical in nature. So we will never really know if the old number of 9% plus growth were actually that high, higher or lower.
The National Accounts Division is trying to create a time series but it is challenging given that MCA 21 data will be available only upto 2007. This does not mean the new series should not be made. Nor does it imply that the new series is wrong.

How does the new GDP data factor in India's bustling informal economy that operates outside regulatory boundaries?

According to officials the GDP series captures it well because of the data from surveys of the household economy covering both assets (through the debt and investment survey), expenditure and establishment activity. This comprehensive group of surveys very few developing countries have. Black money is not value addition. It is how much of this should have been assessed to tax and was therefore not paying tax. That is a much more difficult question to answer.
Close Story
Personalise your news feed. Follow trending topics