Lenovo Yoga Slim 7i Pro X constructs a new balance of power for slim laptops
Published on Jan 18, 2023 10:59 AM IST
There are fewer performance compromises on the Yoga Slim 7i Pro X, compared with many other genuinely slim laptops. This isn't flawless, yet there is value to the proposition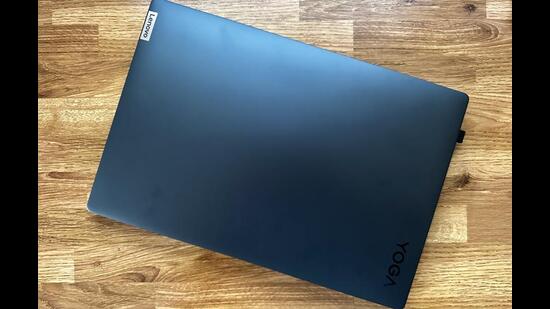 Slim laptops and content creator-spec power, these don't always go in tandem. Not to say attempts haven't been made in the past, but most experiences have been sacrificed (at some point, some last longer than others) at the altar of managing thermals in an incredibly packed space. I say this with some amount of certainty, those examples haven't done things as well as Lenovo has, with the Yoga Slim 7i Pro X laptop.
Particularly impressive too, since there's no compromise on performance even after a few hours of runtime. That's when most laptops tend to slow down, in different degrees, as the heating catches up. Mind you, the Yoga Slim 7i Pro X review unit we've experienced is spec-ed out with the Intel Core i7-12700H processor (this is the 12th generation chip, the 13th gen options are still some way off), 16GB RAM, a 1TB SSD and the Nvidia GeForce RTX 3050 graphics. A notch-above casual gaming is definitely on the agenda.
The 14.5-inch UPS display with a 3072 x 1920 resolution. That display size is unique, but it isn't any closer to the square-er aspect ratios laptops have been dabbling with for a while now, though the aspect ratio is 16:10. This screen brings colours through quietly nicely and well separated, and the sharpness is on point too. The vividness is impressive, though at no point will you feel that images have their colours boosted unnaturally.
Lenovo talks about 100% coverage for RGB colour gamut with hardware calibration helping achieve complete Delta E<1 standard accuracy level. Yet, for photo and video editors, the "pro" users we often refer too, there isn't any clarity on DCI-P3 or Adobe RGB. This isn't a touchscreen, though that's an option too. It is a non-reflective display for the most part, which adds to useability comfort.
An observation that cannot be ignored is that auto-brightness is a tad too aggressive with the measurements and changes. This leads to visible (and jarring) variations, often looking like flickering, if you're working on a document or reading a webpage with a white background. There is absolutely even backlighting though, with no brighter areas visible with a variety of colours on screen.
I've said this before and must re-emphasise that the Lenovo Yoga Slim 7i Pro X (at least this variant) is powered by an Intel Core i7 chip, and with everything else around it, this holds the performance levels quite well. Without getting into the artificial benchmark conundrum, it is safe to assess that the real-world performance, even when stressed with multi-tasking, remains effortless. This is a powerful laptop. It won't slow down. Though if you're on battery power, that'll have to bear some sacrifice.
Also Read:Lenovo Smart Clock Essential with Alexa is uncomplicated yet perplexingly finite
I would like to draw your attention to the Lenovo Vantage software, one of the genuinely useful utilities. Power and performance, battery charging specifics (such as rapid charge) and the power-on habits (opening the lid can power on the Yoga Slim 7i Pro X too, if you wish) – these are more controls compared to what Windows 11 offers by default.
Performance is definitely aided by the Nvidia graphics, which if you have the latest driver package installed (this will be on Nvidia's website), can work alongside the processor to get software to load faster. And better. Good news this, for games as well as the more resource intensive image and video editing suites. But then again, updating the component drivers is basic hygiene for any laptop, the advantages of which quite apparent here too.
It is no joke for a slim laptop to let you play Forza Horizon 5, albeit with some visual elements dialed down. Yes, the fans do get quite audible as the rapid heat generation during gaming demands quick dispersion too.
Lenovo has given the Yoga Slim 7i Pro X a 1080p webcam, which in other words, is Full HD resolution. Contrary to the expectations this sets, how you'll be seen in video calls, is just about acceptable. It is hard to point to what the issue is – the sensor or the fact that it isn't processing enough ambient light to brighten up the image. There is no Windows Hello face recognition available too – that's double disappointment considering there's no fingerprint sensor too.
The keyboard will be familiar to anyone who has used Lenovo laptops before. Yet, you'll notice soon enough that the key response is definitely sharper and there is slightly less travel – this in turn eliminates the spongy sentiment that has been a trademark of many Lenovo keyboard iterations in the past.
Lenovo, it must be emphasized, has blended consistent performance in a form factor that is hard to miss. The Yoga Slim 7i Pro X is about as premium as a premium Windows 11 laptop gets. You'd certainly not expect anything less, with the range priced ₹1,25,300 onwards, depending on the configuration you choose. Not exactly the lightest on paper, tipping the scales at 1.4 kg, but absolutely not a hardship to carry this around.
There are two colour tones of grey at play on this aluminum chassis. The lid has a darker shade, while the keyboard deck and the underside shifting to something lighter. The gentle curves on the sides add a really nice touch, as does the placement of the power key on the right-side spine. There's even a full HDMI port (no dabbling with adapters) alongside a full USB and multiple USB-C ports – it was a stress-free process of connecting this with an external display.
There is little doubt the Lenovo Yoga Slim 7i Pro X will compete for the attention of an overlapping demographic of users, as the HP Spectre laptops. Prices, the premium and slim laptop positioning, as well as most of the specs, will be comparable. The combination of the processor and dedicated graphics delivers on the potential for performance. And that's one thing with the HP Spectre doesn't have on the default X360 series. Will that define your purchase decision?