AAP refuses to accept MLA Amanatullah Khan's resignation, backs him
Delhi deputy chief minister Manish Sisodia says party leader is being 'dragged' and framed in molestation case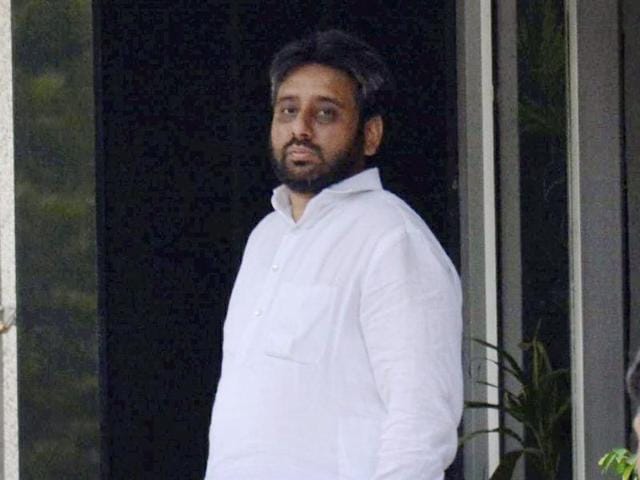 Updated on Sep 12, 2016 01:05 AM IST
Deputy chief minister Manish Sisodia on Sunday defended Aam Aadmi Party MLA Amanatullah Khan, booked in a case of sexual harassment and dowry, saying the party will not accept his resignation.
The Okhla legislator resigned as the Waqf board chief and from other posts on Saturday. The same day, police registered an FIR against him at the Jamia Nagar station after a woman claiming to be his relative accused him of harassing her for dowry and sexual favours.
"Whenever there is any complaint against our party members, we conduct an internal inquiry. We have taken action against ministers after inquiries. In case of Khan also, an inquiry was conducted and we found that it is a case of family dispute. Khan had no relation with the woman," said Sisodia.
The deputy CM further said Khan was being dragged into the case for exposing corruption in the Waqf board.
Sisodia also accused the Delhi Police of becoming extra active whenever the AAP's name came up. "The family's internal matter is being given political colour. Those who understand Waqf issues are aware of how influential people have grabbed Waqf lands. Khan is stopping these scams and is being targeted," said Sisodia.
"He had given his resignation in pain … He sent out a very emotional letter to us. But our probe has not found anything. I spoke to the chief minister (Arvind Kejriwal) and also other leaders and we have decided to not accept his resignation," Sisodia said.
Police are yet to arrest Khan in the case. In July, he was sent to 14-day judicial custody after being arrested in a molestation case. Khan is presently out on bail in the case.
The Delhi government's Anti-Corruption Branch raided the Delhi Waqf Board office last week in connection with an alleged recruitment scam involving Khan, following a complaint.
In his letter, Khan said he was out of patience issuing clarifications and pleading innocence over allegations against him and his family.
Investigating officers said they will probe the woman's allegations. They recorded her statement before a magistrate. "We will ask the MLA to join investigation on Monday."
Close Story