Agra wants casinos, 'mujra' points to make tourists stay
Oct 04, 2019 11:54 PM IST
At present the average period of stay of tourists is less than a day despite the fact that every fourth tourist coming to India loves to visit the Taj.
Those visiting the 16th century Fatehpur Sikri palace, 40 km from Agra, come across a 'chaupar' (game of dice) with 25 red and white square blocks engraved on the floor and a raised stone in the middle. It is said Mughal emperor Akbar was fond of the game and played it with his ministers. He used to use courtiers or slaves to move on the squares as per the dice numbers.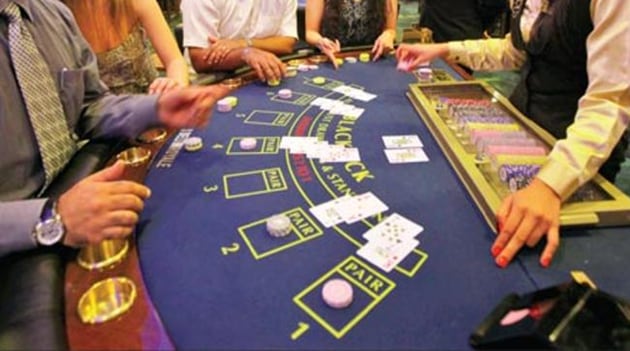 About four decades ago, a proposal was made by tourism traders to revive the 'chaupar' game as an attraction for tourists, mainly foreigners, but it fell through. Veteran of tourism trade Arun Dang says the proposal failed because of people's aversion towards the gambling game.
Stay tuned with breaking news on HT Channel on Facebook.
Join Now
But now, worried by the dwindling number of tourists, especially foreigners, tourism traders of Agra, once the capital city of Akbar, are demanding 'casinos' (where gambling takes place) to attract tourists.
And desperate to have hold back tourists for several nights together in the city of Taj, the tourism traders want their city to be made lively by night and so have suggested certain measures, including opening of casinos, discotheques and even 'muzra' centres to attract tourists.
At present the average period of stay of tourists is less than a day despite the fact that every fourth tourist coming to India loves to visit the Taj.
City elders recollect the good old days when the Taj Mahal used to remain open in night too. But after terror threats in the eighties because of the Khalistan movement, the Archaeological Survey of India decided to keep the Taj Mahal out of bounds for public in the night hours. Not only Taj, other ASI tourist sites also began closing by sunset.
The restriction on Taj timing was a jolt to the tourism trade and hoteliers complained of low occupancy with every passing year.
A light and sound show began at Agra Fort, especially for the entertainment of tourists, but was discontinued after some time.
"We are different from the nearby religious destination, Mathura, and thus we need fusion of modern and historical attractions for tourists, mainly the foreign ones. Like Nepal and Goa, we can set up casinos only for foreigners. We can also have 'mujra' centres, strictly in traditional art form, besides discotheques to hold back foreign tourists who otherwise return to the city they are based in India on the same day without staying back in Agra even for a night," complains Sandeep Arora, president of Agra Tourism Development Foundation.
"Although connectivity helps the tourism sector, but the other two tourist destinations in the Golden Triangle, namely Delhi and Jaipur, prove more attractive to tourist, each about 200 km apart," he said.
"Tourists, mainly foreigners, visit Taj Mahal in the day and move to Jaipur or Delhi in evening. Three special trains -- Gatiman Express, Shatabdi Express and Taj Express -- come from Delhi in the morning and return in evening and so the tourists coming in morning and leave in the evening," complains Arora.
Also, the Yamuna Expressway and Lucknow-Agra Expressway facilitate tourists to leave Agra by the evening.
"We need present day attractions as well as cultural fiestas for tourists like laser shows, light and sound shows etc to hold them back in Agra," he said and added
that the new lounges coming up in city that serve drinks with dinner were gaining popularity and hoped more of them would be set up.
Rajeev Tiwari, former chairman of National Chamber for Industries and Commerce (Agra chapter) and convenor of 'Paryatan Mitra' recollects that the demand for casinos is not new and was raised a decade ago but could not sail through because gambling in any form is considered illegal in India.
"Amendment in legislation can open the way for casinos in Agra. In Goa, casinos exist since long as the state enjoys exemption. This helps to attract tourists," said Tiwari.
Rakesh Chahan, president of Hotel and Restaurant Association, also wants casinos in Agra and said his association would make a formal proposal to the authorities for the same.
"There can be various measures to increase night attractions that include light and sound shows at Agra Fort and Fatehpur Sikri, laser shows, digital fountains, organising 'muzras' with cultural glimpses and granting licences for casinos to hotels," says Chauhan.
'Every fourth visitor touching the Indian soil makes sure to visit Agra for seeing Taj. We have three world heritage monuments, including Agra Fort, Taj Mahal and Fatehpur Sikri but they all are attraction of day light. We specialise in cultural tourism and visitors like to move around unlike Goa, the city having casinos, where tourists come for leisure," says Dang.
"Many conservative nations like Malaysia and UAE have come up with destinations popular for casinos that are doing well. In cities like Agra, licences for casinos can be given on the pattern of licences for bars," suggests Dang.
"We are lagging in convincing tourists to stay back in Agra. The average length of tourist stay is 0.7 day and we have failed in making them stay for even one complete day. The percentage of foreigners among the visitors was as high as 25% in the past, which has now fallen to 10 to 15 % and this is concerning," opines vice president of Tourism Guild of Agra Rajeev Saxena.
"Is it not an irony that queues are getting longer and 'capping' is being considered for the number of tourists visiting Taj in a day, but hotels in Agra are complaining of low occupancy for most part of the year. For changing the scenario, the guild is planning to press the demand for increased night activity, including laser shows, food courts etc," said Saxena, who feels the casino idea won't be easy to get through as a proposal for the same was unsuccessful last year too.