Amrita Pritam had prophesied her heir to be a writer of next generation
Hindustan Times, Chandigarh |
Nirupama Dutt
Oct 31, 2019 05:01 PM IST
Present-day students want to know Amrita Pritam as a poet and a prose writer, dismissing all extraneous trappings, including her love life much highlighted by the media.
The unmatched enthusiasm of the birth centenary celebrations of Amrita Pritam (1919-2019) all over the country, which started in the autumn of 2018 and continues, shows promise of spilling over to the next year. This has marked the renewal of interest in her writings and more so in Punjab for this woman writer of courage and talent remained at the receiving end for one or the other reason from the strong patriarchal order of the land and language she was born to.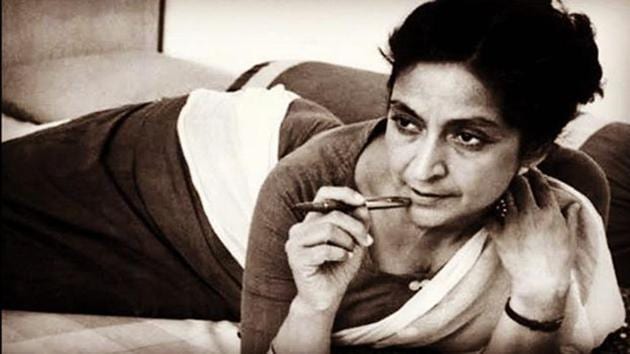 Amrita, who had nurtured two generations of Punjabi writers as editor of the literary journal 'Nagmani', in a letter to the readers wrote: 'I know fully well that my real literary heir will be a writer of the next generation!" Surjit Singh, head of the department of Punjabi University, Patiala, says: "Amrita's writings had been negated by many of her generation for different reasons and the next generation had the grouse that she had not written enough on the 1984 violence against the Sikhs. But present-day students want to know Amrita as a poet and a prose writer, dismissing all extraneous trappings, including her love life much highlighted by the media." The department has organised two very successful literary meets dedicated to Amrita which have been widely attended by those who knew her and those who want to know her as a poet and fiction writer, he says.
ALSO READ: The legend of Amrita Pritam lives on through her poems and stories
Urdu poet Chander Trikha, chairperson of the Urdu Akademi, Haryana, says: "The unparalleled festivity dedicated to her in the centenary year shows a renewal of interest in what she wrote on the composite culture of Punjab, the warmth of love, the sensitivity of human relationships, the struggle of womanhood for dignity. It was sad that many of her contemporaries dismissed her as a 'romantic'. But the brave woman went on writing what she believed in. For long I had been stressing on the re-reading of her text and I am happy to note that it is happening now and here."
In the letter on her legacy of dreams and ideas, Amrita had said: "These dreams and ideas are very dear to me, dearer even than life. I carry their bundle on my shoulders and when I get tired, this bundle grows wings and reaches out and brings the moon and the stars closer… All my life I have tried to turn dreams into reality and I know this letter is the one who will be able to go beyond my footsteps!"
In yet another will of her last rites, pained by the witch-hunting of her male counterparts that made her say that just being a woman was a sin in the world she was born to, she had said there should be no customary speeches, no falsehood and only her children and her partner Imroz should shoulder her last remains. And so it was in honour of her sentiments.
Paul Kaur, who had penned an evocative book on her life and writings, says, "The celebrations we are witness to is for her writings and her beliefs. Amrita who faced much indignation in life is now face to face with the readers. Amrita has won and so have the woman writers for whom she made the path easy."
Follow more stories on Facebook and Twitter
At Hindustan Times, we help you stay up-to-date with latest trends and products. Hindustan Times has affiliate partnership, so we may get a part of the revenue when you make a purchase.