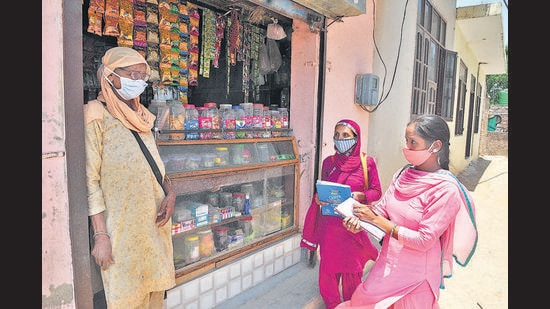 Chandigarh tricity's daily Covid cases drop to lowest in 74 days
14 casualties in Chandigarh, Mohali and Panchkula within 24 hours still a cause of concern; active cases down to
By HT Correspondents
, Chandigarh/mohali/panchkula
UPDATED ON MAY 30, 2021 02:41 AM IST
The pandemic's downward trend continued in the tricity on Saturday as 467 fresh cases were recorded, the lowest in the past 74 days.
However, 14 more people lost their lives to the contagion, a still worrisome number.
It was on March 16 last when the tricity had logged 435 cases, following which the daily count climbed vigorously, hitting the all-time high of 2,612 on May 10. But, in the 19 days since, the daily cases have dropped by 82%.
The daily deaths, however, still remain in the double digits in the absence of a consistent decline.
On Saturday, Mohali led the daily case tally with 233 people being found positive, followed by 163 in Chandigarh and 71 in Panchkula, far lower than their peaks of 1,382, 895 and 654, respectively, recorded earlier in May.
On the deaths' front, five people each died in Chandigarh and Mohali, and four in Panchkula.
On the bright side, tricity's active cases came down to 4,418, 38% lesser than Friday's 7,168. The recovery rate of all three cities also remained over 90%, while the daily positivity rate was recorded at 5% in Panchkula, 5.6% in Chandigarh and 6% in Mohali.
The latest fatalities pushed Chandigarh's toll to 740, while the total cases reached 59,740. As many as 56,534 people in the city have successfully beaten the virus.
In Mohali, the worst-hit in tricity, total fatalities reached 947. Of the 66,224 people testing positive till date, 3,414 are still under treatment and 61,863 have been cured.
Among Saturday's cases, majority at 78 were from Mohali city, 38 from Dera Bassi, 36 from Kharar, 35 from Dhakoli, 17 from Gharuan, 10 from Lalru, nine from Banur, eight from Boothgarh and two from Kurali.
Panchkula's caseload stands at 29,853, of which 28,508 patients have recovered and 341 have died. At 1,004, its active cases are the lowest in tricity.
The fatalities on Saturday include a 68-year old woman from Raipur Rani, a 67-year-old man from Kalka, a 54-year-old woman from Sector 17 and a 48-year-old man from Sector 9.
"Moderate to serious patients take more time to recover than those with mild symptoms, which is why the number of fatalities is still high. Now, as there is steep decline in the number of new cases as well as the positivity rate, the fatalities will also come down gradually," said Dr Jagat Ram, director, PGIMER.
However, Dr VK Nagpal, UT joint director, health, cautioned residents against lowering their guard. "Even though the restrictions are being eased out, residents should adhere to safety guidelines because with increased movement of people, chances of the case count rising also increase," he added.
Close