On camera, woman jumps into Ganga at Haridwar, swims to safety; probe ordered
Jun 28, 2022 08:29 PM IST
Haridwar city superintendent of police Swatantra Kumar Singh said the police regularly hold campaigns to sensitise people about such actions
Dehradun/Haridwar: The Haridwar Police on Tuesday signalled its disapproval of an elderly woman jumping into the Ganga at the holy town's Har Ki Pauri on video, saying it has taken note of a widely-circulating video of the woman.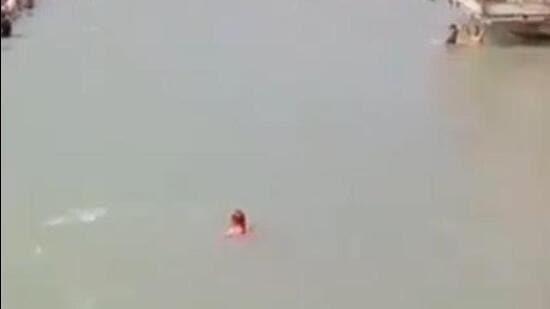 "We have taken cognisance of the viral video and ordered the police station concerned to gather information for action," said superintendent of police (city) Swatantra Kumar Singh said.
The police officer said the woman's identity, age and other details such as when the video was filmed are yet to be ascertained.
The viral video has evoked a mixed reaction on social media. While many praised the woman, there were some who said she may have violated local regulations and her video might encourage others to do the same.
In the video, the elderly woman can be seen jumping off a foot over bridge across the Har Ki Pauri. The woman first wriggles through the grill of the bridge and finally dives into the holy river. Thereafter, she comfortably swims across the river despite the fast-flowing water and can be seen approaching the banks.
To be sure, it is not rare for people to climb over the railings and jump into the river, often on camera.
Singh said they regularly run awareness campaigns to sensitise and warn people about the dangers involved."If anything like that comes to our notice, we take appropriate action. The same is being done in this case," the district police officer added.