On camera, woman jumps into Ganga at Haridwar, swims to safety; probe ordered
Updated on Jun 28, 2022 08:29 PM IST
Haridwar city superintendent of police Swatantra Kumar Singh said the police regularly hold campaigns to sensitise people about such actions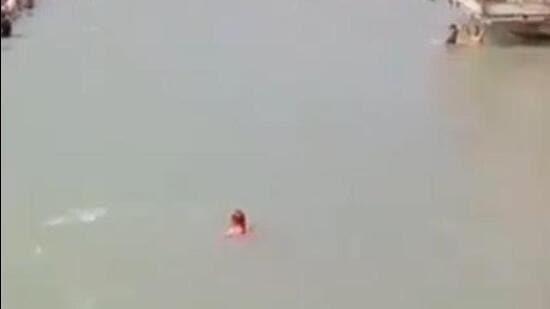 Dehradun/Haridwar: The Haridwar Police on Tuesday signalled its disapproval of an elderly woman jumping into the Ganga at the holy town's Har Ki Pauri on video, saying it has taken note of a widely-circulating video of the woman.
"We have taken cognisance of the viral video and ordered the police station concerned to gather information for action," said superintendent of police (city) Swatantra Kumar Singh said.
The police officer said the woman's identity, age and other details such as when the video was filmed are yet to be ascertained.
The viral video has evoked a mixed reaction on social media. While many praised the woman, there were some who said she may have violated local regulations and her video might encourage others to do the same.
In the video, the elderly woman can be seen jumping off a foot over bridge across the Har Ki Pauri. The woman first wriggles through the grill of the bridge and finally dives into the holy river. Thereafter, she comfortably swims across the river despite the fast-flowing water and can be seen approaching the banks.
To be sure, it is not rare for people to climb over the railings and jump into the river, often on camera.
Singh said they regularly run awareness campaigns to sensitise and warn people about the dangers involved."If anything like that comes to our notice, we take appropriate action. The same is being done in this case," the district police officer added.
Close Story
Terror plot foiled: ATS nabs suspected ISIS operative in Azamgarh

LUCKNOW Ahead of Independence Day, the UP Anti-Terrorism Squad on Tuesday claimed to have foiled a terror plot to target Rashtriya Swayamsevak Sangh workers, after the arrest of an alleged ISIS operative, Sabauddin Azmi, from UP's Azamgarh district. Sharing a press note, ATS officials claimed that Sabauddin Azmi was in touch with ISIS recruiters Abu Umar and Abu Bakar Al-Shami through phone and instant messaging applications.

3 from Delhi arrested for thefts in Navi Mumbai

Investigations into a house break in New Panvel led the Khandeshwar police to a gang of three in Delhi who used to come to Mumbai, stay in hotels, board a train and get down at any station and target closed flats near the stations and return to Delhi. The accused have been identified as Alimuddin Abdul Hameed (47), Sajid Khubanseeb (27) and Mohammad Ramzan Mohammad Haneef (44).

Water level at Barvi Dam rises to 91% after good rainfall in August first week

With the first week of August receiving good rainfall in catchment areas, the water level in Barvi Dam, which supplies water to Mumbai Metropolitan Region, has increased to 91% from 78%, which was the level in July last week. The officials of the dam claimed that if the rainfall continues in the coming days, the dam will get its full storage.

Moharram processions peaceful across U.P., stray violence in Bareilly

Lucknow Amid apprehensions of communal and sectarian clashes, the state police on Tuesday managed to ensure by and large peaceful Moharram processions in different districts, including Lucknow. The Moharram processions were taken out peacefully from August 1 and 9 but there were major apprehensions of law-and-order problem in the backdrop of back-to-back incidents of violence after Friday prayers in June earlier this year in Kanpur, Prayagraj and eight other districts.

'Blatant lies': Bihar BJP leaders blast Nitish Kumar for breaking ties

Senior Bharatiya Janata Party leader Ravi Shankar Prasad on Tuesday lashed out at Janata Dal (United) president Nitish Kumar for breaking ties with the National Democratic Alliance and joining hands with the Rashtriya Janata Dal to form a new government in Bihar. Stating that JDU won the 2019 Lok Sabha elections in the name of Prime Minister Narendra Modi, Prasad said the tally of JD(U) MPs also increased to 16.
Personalise your news feed. Follow trending topics