136 open-air dining licences issued across Delhi
Published on Nov 24, 2022 11:51 PM IST
The open-air dining policy was originally launched in September 2020 by the public health department of the erstwhile South MCD and later adopted by the erstwhile North MCD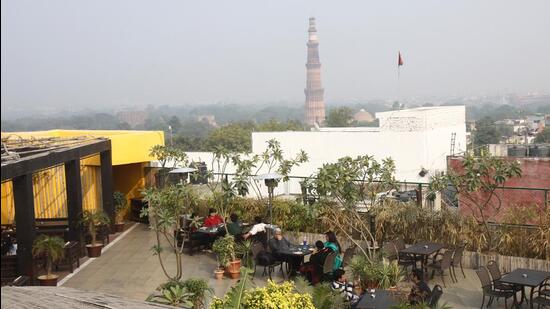 Municipal Corporation of Delhi (MCD) on Thursday said that it has issued 136 open-air dining licences for eateries and restaurants across the city, of which 116 licences are for open spaces adjoining the restaurants and 20 are for terraces.
The open-air dining policy was originally launched in September 2020 by the public health department of the erstwhile South MCD and later adopted by the erstwhile North MCD. The newly unified MCD finalised a unified policy for open-air dining on November 4, 2022 to bring about uniformity in regulations. The unified open-air dining policy now also covers East Delhi areas. According to a senior municipal official, the move was cleared before the announcement of the MCD election.
A second MCD official said that according to the revised policy, there is no requirement for a separate fire NOC for the licence. "The restaurants already have a fire NOC from Delhi Fire Service, which can also be valid for extending an open-air licence, but the number of people permitted in the restaurant will remain the same. For example, if a restaurant larger than 90sqm has a fire NOC for 50 people, it must accomodate them both indoors and outdoors. No additional people will be allowed," the municipal official explained.
"A separate fire NOC would be required for open spaces on top floors if the existing establishment's area totals to 90sqm with the addition of the open space. All other fire safety measures will have to be followed," the MCD official added.
The policy also says that the licensee shall ensure that people using the open space/terrace do not throw articles outside which may be a cause of disturbance to the outsiders/passersby.
To use the terrace or open area of their establishments, operators will have to submit licensing fees at ₹200 per sqft. Operators of high-end four-star restaurants and above will have to pay ₹500 per sqft. Last year, HT had reported that the open-air dining policy had failed to catch on with only around 70 open-air dining licences issued by the South MCD till October 2021.
MCD officials said that with easing of norms regarding the fire NOC, more restaurant owners are expressing interest in seeking this licence.
LG VK Saxena had constituted a committee of senior officials of departments/agencies concerned to ease and facilitate the licensing requirements of restaurants, eating houses and hotels on October 31, 2022, to provide a fillip to the hospitality sector by paving the way forward for late-night dining, alfresco eateries and dining in the open air and on terraces.
Personalise your news feed. Follow trending topics