Not acting as headmaster, LG responds to Kejriwal's criticism
Updated on Jan 20, 2023 01:17 PM IST
Kejriwal on Tuesday questioned LG's authority as he hit out at Saxena over his alleged interferences in governance.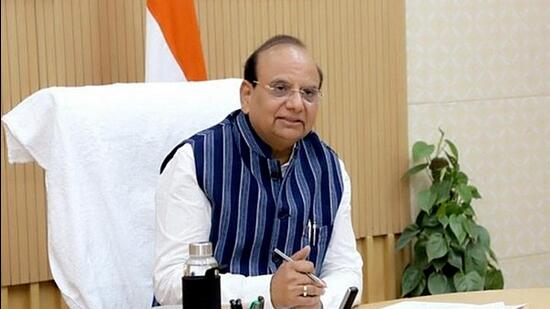 Lieutenant governor (LG) Vinai Kumar Saxena has said he draws chief minister Arvind Kejriwal's attention to "comprehend issues in totality" and deal with them in "a real and comprehensive manner" so as to help amid a power tussle between the two. In a letter to Kejriwal on Friday, he added he does so as a "benign yet conscientious voice" of the people that derives sanctity from the Constitution.
Also Read | Kejriwal's attack on LG continues for 2nd day: 'Not my headmaster'
"...I am not acting as a "Head Master", as you have been sarcastically referring to me...," Saxena wrote, referring to Kejriwal's comment that LG was behaving like a headmaster.
Kejriwal on Tuesday questioned LG's authority as he hit out at Saxena over his alleged interferences in governance. "I am the elected chief minister of Delhi. Who are you?" Kejriwal asked in a hard-hitting speech in the Assembly.
LG's move to seek a cost-benefit analysis on sending Delhi schoolteachers for training in Finland was the trigger for Kejriwal's angry speech. Kejriwal earlier led protests over the matter.
Also Read | 'Teachers training-Finland proposal not rejected': LG after Sisodia attacks
In his letter to Kejriwal, Saxena cited the Constitution in response to the questioning of his authority. "As to 'who is LG' and 'where did he come from', etc can be answered, if you were to even cursorily refer to the Constitution of India, others do not deserve a reply, since they obviously cater to a very low level of discourse."
Kejriwal's 21-minute speech came as a Constitution bench of the Supreme Court was hearing a case on the division of powers between LG and the chief minister in Delhi.
In July 2018, the court ruled that land, police, and public order come under the Union government and, therefore, the LG. It said the rest of the subjects were under the Delhi government.
The Centre on Wednesday sought a larger bench of nine or more Supreme Court judges to adjudicate the power tussle over the control of the bureaucracy. It argued the matter deals with the national capital and the Union government should not go down in history as one that handed over the city to "complete anarchy".
The submission came before a five-judge Constitution bench reserved orders on the Delhi government's plea seeking legislative and executive control over officers.
The Delhi government has argued the 2018 verdict of the top court gave primacy to it on all issues except public order, police, and land.
Kejriwal's Aam Aadmi Party (AAP) has claimed LG is working to further Bharatiya Janata Party (BJP)'s interests and this has been a constant source of friction. They have sparred over a range of issues including the government's advertising, the appointment of aldermen in the municipal corporation, garbage, and pollution.
Kejriwal on Tuesday claimed Saxena said it was the LG's work that ensured the BJP won 104 seats in the municipal elections even though it was not in a position to win 20.
Saxena said he invited Kejriwal and deputy chief minister Manish Sisodia to see him on Monday after the chief minister left the Assembly to lead protests and demanded to meet LG. "However, you chose not to come on the pretext of wanting to meet me with all of your MLAs [members of legislative assembly]."
He said given the short notice and sudden demand, it would not have been possible to at once have a meeting with 70-80 people, nor would have it served any purpose. "Even as the city is grappling with several serious developmental issues, you found time to walk for long and stage a protest meant solely for [political] posturing, rather than taking the issue to a logical conclusion by meeting me."
Saxena flagged issues related to the education sector, which has been a key focus area for the AAP. He said there has been a drop in attendance and enrolments in government schools, an increase in students going to private schools, etc. "I had flagged the issue of no new schools having been built during the last 8 years in Delhi despite the DDA [Delhi Development Authority] allotting 13 plots to the Education Department, since as long as 2015, for the same."
Saxena said he personally ensured that six plots were allotted in August 2022 for building schools. "Adding classrooms in existing schools and counting toilets as classrooms, do not, by any stretch of [the] imagination, amount to opening new schools...," Saxena wrote.
Saxena referred to the teachers' training and added irrespective of whether a five-day trip to Finland will serve any purpose or would serve as an event to be played up in the media, he did not reject the proposal. "I raised a few queries with respect to the impact assessment and cost-benefit analysis of such visits which have been going on for the past few years, and asked the department, whether such training could be obtained in a more cost-effective manner in our own Institutions of Excellence, like the IIMs [Indian Institutes of Management]."
Saxena said the aim was not to obstruct, since he cleared proposals for sending 55 principals and vice principals of government schools to Cambridge with specific training goals.
There was no immediate response from the Delhi government