Red-headed vulture seen at Delhi's Bhatti mines, first since 2017
Jan 30, 2023 12:29 PM IST
The bird was spotted during an ongoing winter raptor survey, which is carried out by the Bombay Natural History Society each year at the Asola Bhatti Wildlife Sanctuary
For the first time since 2017, birders spotted a red-headed vulture (Sarcogyps calvus) in the Bhatti mines area of Delhi on January 20, the same week a "rarest of rare" black vulture (Coragyps atratus) was sighted in Gurugram's Chandu Budhera.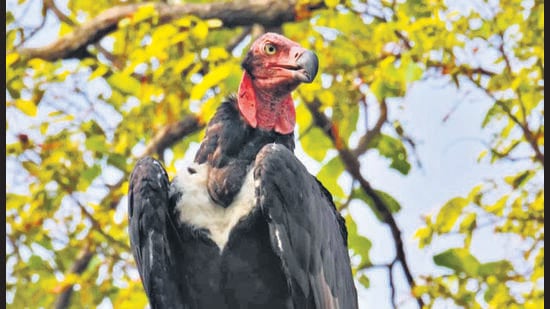 The bird was spotted during an ongoing winter raptor survey, which is carried out by the Bombay Natural History Society (BNHS) each year at the Asola Bhatti Wildlife Sanctuary (ABWS).
The bird is "critically endangered" according to the International Union for Conservation of Nature (IUCN), with less than 10,000 of these birds existing worldwide. Sohail Madan, centre manager at ABWS and a member of BNHS, said the bird was last sighted in the area in 2017, when the winter raptor survey first began. It has been spotted in Mangar Bani (part of NCR) a couple of times after 2017 as well.
ALSO READ: Wildbuzz: Such beautiful eyes
"It is considered a rare sighting for NCR and was spotted here after six years. It was last recorded during the winter raptor survey as well. While the bird can survive in several habitats, the count of vultures has remained low in India since the mid-2000s," Madan said, adding the birds form an important part of the ecosystem as they are scavengers. "They effectively clear carcasses and the pathogens that exist within them," he said.
Abhishek Ghoshal, head, Vulture Conservation Policy at BNHS, said long-term vulture population surveys across 13 states in central, northern and eastern India show the population decline of the bird has stabilised since diclofenac — a drug toxic to these birds — was banned for veterinary use in 2006.
"However, none of the vulture species is showing a recovery in population, since vultures are slow breeders. While the near-removal of diclofenac seems to be working and helping halt population decline, drugs toxic to vultures, such as aceclofenac, nimesulide and ketoprofen, are still used widely for veterinary purposes. They have the same impact as diclofenac," he said, adding vulture-safe veterinary drugs such as meloxicam and tolfenamic acid need to be promoted instead.
ALSO READ: DRI cracks down on wildlife trafficking, 7 held at Bengaluru airport
Madan said Egyptian vultures are now being spotted more frequently at Asola. "Egyptian vultures are now being sighted more often and they have a stable population here. There is a gradual need for more vulture species to also establish a decent count," he added.
BNHS has launched a nationwide survey to track vulture population across the country, with the results to be released in March 2023. Since the winter of 2017, over 70 surveys have been held to record raptors, with BNHS recording the presence of, among others, the endangered Egyptian vulture (Neophron percnopterus), steppe eagle (Aquila nipalensis) and the vulnerable greater spotted eagle (Clanga clanga). A near-threatened pallid harrier (Circus macrourus) was also recorded for the first time in November 2017, and more recently, officials at the Asola Bhatti wildlife sanctuary recorded the northern goshawk (Accipiter gentilis) in February 2022, the first ever photographic record for the Himalayan species in Delhi.
ALSO READ: Give 1,300 mgd water to Delhi, CM urges Centre
Nikhil Devasar, a birder based in Delhi-NCR, who also organises the Big Bird Day count, said the bird is fairly rare for NCR and is most frequently spotted around the Asola-Bhatti area. "There are on-and-off sightings every year or so in NCR, but it is a rare occurrence, with only one sighting throughout the year," he added.
On Friday afternoon, birders in NCR spotted a black vulture in Chandu Budhera, a bird never found in Asia or Europe. Birders suspect it may have escaped the clutches of wildlife traffickers. It was still in the area on Sunday, birders said.
Enjoy unlimited digital access with HT Premium
Subscribe Now to continue reading