The bird was spotted during an ongoing winter raptor survey, which is carried out by the Bombay Natural History Society each year at the Asola Bhatti Wildlife Sanctuary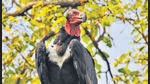 Updated on Jan 30, 2023 12:29 PM IST
Check out some of India's best zoos that allow you to observe wildlife and admire natural beauty all around.


Published on Sep 17, 2022 08:47 PM IST
Delhi Zoo Director Sonali Ghosh said, "Interestingly, the ostrich we have got from Chandigarh zoo belongs to the same clutch of eggs we have here. There were not enough female ostrich. Now we have to find female ostrich for them. Covid-19 has slowed down the entire process, but we will do it."


Updated on Sep 23, 2021 03:55 PM IST
So far the zoo had a few surveillance cameras installed only at critical points that did not cover the entire premises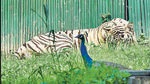 Updated on Aug 27, 2021 03:53 AM IST
Almost 140 painted storks have already arrived, zoo officials said, adding that the water bodies in the zoo are full of the winged creatures with long, yellow beaks. "By the end of August, the numbers may reach more than 500," said Pandey.


Published on Aug 16, 2021 04:50 AM IST