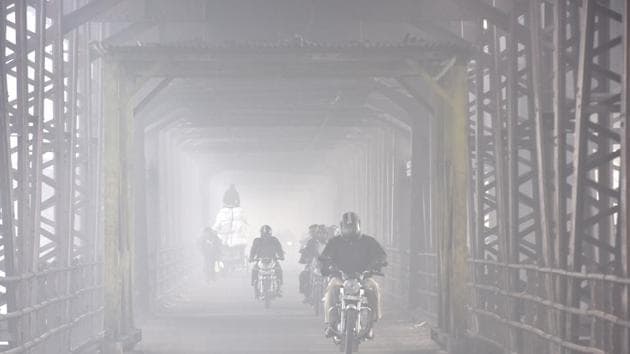 Delhi wakes up to foggy morning
The fog disrupted train services and sparked a spike in air pollution on Saturday.
PUBLISHED ON JAN 13, 2018 10:28 AM IST
It was a foggy Saturday morning in the capital with the minimum temperature recorded at 5.5 degrees Celsius, two notches below the season's average, the weather office said.
On Saturday, mainly clear sky is expected for the rest of the day with the maximum temperature expected to be around 24 degrees Celsius.
"The maximum temperature on Friday was 23.7 degree Celsius, four notches above normal, while the minimum was 8, a degree above normal," a MeT official said. The wind flow on Friday was from west-northwest direction of Delhi (i.e. Haryana) with possibility of shallow fog in the morning on Saturday, he said.
The fog continued to disrupt train operations. Over 41 trains were running late, four rescheduled and 13 cancelled due to low visibility in Delhi and other parts of North India on Saturday, railway officials said.
In terms of pollution, the air quality worsened and became "very poor" on Saturday morning. The air quality index (AQI) clocked 336, higher than Friday's 297, which is "very poor". The AQI is calculated on a scale of 0-500. An AQI between 0-50 is considered good, 51-100 satisfactory, 101-200 moderate, 201-300 poor, 301-400 very poor and 401-500 severe.
Central Pollution Control Board air laboratory chief Dipankar Saha said the air quality is expected to deteriorate a bit on Saturday. "The wind speed will be marginally lower during the day time. Along with fog in the morning, this might lead to pollution levels increasing a bit," Saha said.
According to the CPCB real-time monitoring, at 8am on Saturday, the concentrations of PM2.5 and PM10 were 207.9ug/m3 and 370.3ug/m3 respectively. This was a bit more compared to Friday as at 6pm the concentrations of PM2.5 and PM10 were 155.6ug/m3 and 276.4ug/m3.
Both PM10 and PM2.5 are ultrafine particles, the dominant pollutants in Delhi. The acceptable levels of PM10, the larger particulate matter, and PM 2.5, which measures the finer and more dangerous particulate matter, are 100μg/m3 and 60μg/m3, respectively.
Close