Incorrect details on property IDs put Gurugram residents in a fix
Jan 29, 2023 04:38 PM IST
MCG officials said that a property tax survey conducted by a private agency in January 2022, found that properties falling under the tax ambit increased from 307,000 to 514,000. The MCG created new property IDs based on the survey and then invited objections from residents. However, residents alleged that the new property IDs had incorrect details, creating a faulty database
Hundreds of residents have been complaining about the newly-generated property IDs having incorrect details due to which they are facing difficulties in depositing property tax. Residents said the Municipal Corporation of Gurugram (MCG) should resolve the problem at the earliest and have demanded that the deadline to deposit property tax be extended to the end of February, sources said.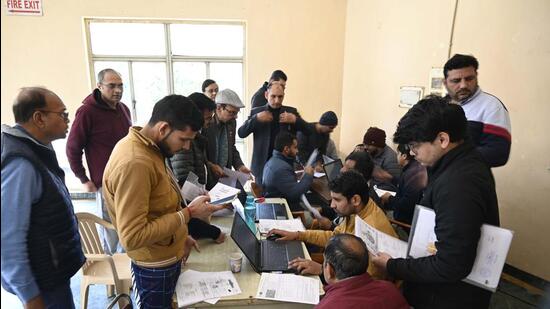 A large number of residents have been regularly visiting the MCG offices to get their issues resolved. As most of these changes have to be modified and updated manually, the process is time-consuming and the queues are getting longer, sources added.
Many residents who tried updating their details online have also alleged that their applications are being rejected.
MCG officials said that a property tax survey conducted by a private agency in January 2022, found that properties falling under the tax ambit increased from 307,000 to 514,000. The MCG created new property IDs based on the survey and then invited objections from residents. However, residents alleged that the new property IDs had incorrect details, creating a faulty database.
Residents alleged that the new property IDs have fetched wrong details of their properties and information related to them. However, MCG officials said to rectify the errors, they have organised camps. One such camp was held at the Nirvana society on Friday, while DLF 1 community centre hosted a camp on Saturday. Another camp will be held at the old MCG office on Sunday, officials added.
PC Meena, MCG commissioner, said that they have received a number of complaints and officials of the property tax wing are working on it to ensure the issue is resolved at the earliest. "We have directed the teams to resolve the objections and to make changes so that residents do not have to personally visit our offices and can timely pay their property tax on time," he said.
Meena said that due to the ongoing issue, the deadline to seek property tax rebate has been extended till January 31, and the MCG has deployed 292 field staff to help residents. Those who have not filed their dues can get a rebate of 50% if they deposit it by January 31, he added.
The MCG has removed most of its citizens' services — such as creation of property IDs, redressal of grievances and property tax payments — from the online property tax system on its website www.mcg.gov.in. Residents can now raise all such issues only via the Haryana government's no dues certificate (NDC) portal, ulbhryndc.org, officials added.
Sandeep Kalra, a shopkeeper at South City-2, said that his tenant's name has been mentioned as the owner of the property. "I tried changing it several times but the file submitted online was rejected thrice. I have visited the MCG office twice this week but the waiting time is long," he said.
Sarla Rani, a resident of Sector 27, said that her apartment is an independent floor but it has been mentioned as stilt parking and tax has been imposed accordingly. "The system has rejected my file twice without a valid reason and now they are asking me to visit the office to rectify it," she said.
Similarly, Anil Kataria, a resident of Ansal Esencia in Sector 67, said that his mobile number mentioned in the ID is incorrect and he has applied for a rectification thrice but it has been rejected. "This is harassment. If the issue is not resolved by this week, officials must extend the deadline for depositing property tax," he said.
"Over 700 residents got their details corrected and the details in the new property IDs were verified on Friday and Saturday", said the MCG commissioner.