Karachi caller tells activist to withdraw complaints against Khadse or 'face consequences'
Updated on Sep 24, 2017 08:42 AM IST
Damania said the mobile application Truecaller traced the call to Pakistan and identified the number as belonging to 'Dawood 2'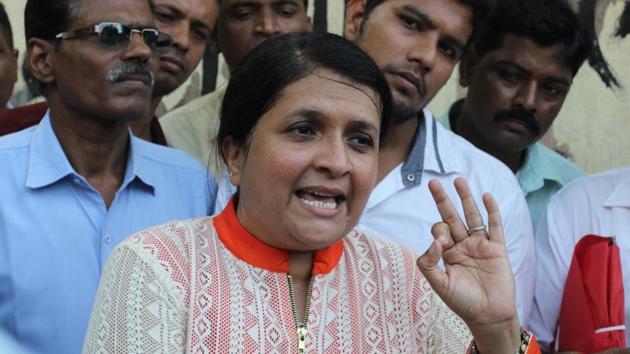 Activist Anjali Damania asked police to file a complaint on Saturday morning, saying she received a threatening call around 12.30 pm on Friday. She told police the caller asked her to withdraw all the complaints she had filed against senior Bharatiya Janata Party (BJP) leader Eknath Khadse or "face consequences".
Vakola police registered a case against unidentified people under section 506 (punishment for criminal intimidation) and 507 (criminal intimidation by an anonymous communication) of the Indian Penal Code.
The Police complaint noted that the call was made from +92**********. Damania said the mobile application Truecaller traced the call to Pakistan and identified the number as belonging to 'Dawood 2'.
''It was disturbing to receive such a threat. I have informed the chief minister of the call. The joint commissioner of police, crime, has been asked to look into the issue,'' said Damania.
HT has an audio clip of the call, which Damania recorded. It features a man threatening to make her life "miserable", adding that he knows who her family members are.
Damania had recently asked police to file a complaint against Khadse under section 509 (word, gesture or act intended to insult the modesty of a woman) of the IPC, saying he used a sexist term to refer to her during a public speech. She has also filed a public interest litigation in the Bombay high court against the senior BJP politician in connection with a disproportionate assets case.