Ambulance staff strike: Yogi warns of toughest action if any patient dies due to laxity
The workers are on strike after a change in the company that operates the advanced life support system (ALS) ambulances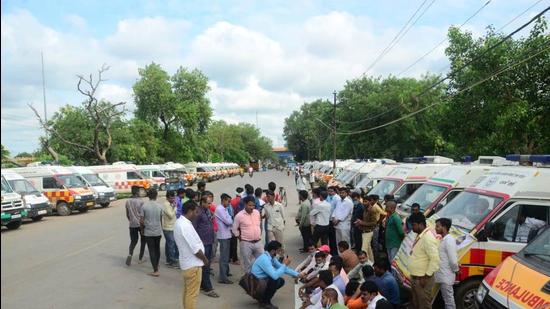 Published on Jul 28, 2021 11:48 PM IST
By HT Correspondent
, Lucknow
Without taking any name, Uttar Pradesh chief minister Yogi Adityanath on Wednesday issued a stern warning against "negligence in duty" as the strike by the staff of government ambulance services 108 and 102 entered the third day in the state.
"If any patient dies because of negligence or laxity, the company, officers, or staff concerned will face the toughest of action following an FIR against them," he said.
"The health department, medical education department, and home department must ensure this order's implementation," he added.
He also said, "Our doctors, paramedical staff and other allied staff set a glowing example of service to people. It's praiseworthy. But at the same time, we must ensure that each and every patient in the state must get immediate medical service. Any laxity at any level towards this will be intolerable."
The two primary ambulance services – 102 (delivery of pregnant women) and 108 (emergency services) had come to a grinding halt since July 25-26 midnight, as workers went on a flash strike in wake of a change in the company that operates the advanced life support system (ALS) ambulances.
So far, GVK EMRI (Emergency Management and Research Institute) was operating advanced life support system (ALS), 108, and 102 ambulance services in the state. But now the responsibility of the ALS ambulance service has been given to Ziqitsa Health Care.
GVK EMRI sacked around 150 ambulance staff , including the president of the State Ambulance Sangh, Hanuman Prasad Pandey and other office bearers.
Close Story