Don't pressurise children to score better marks: CM
Jan 27, 2023 06:31 PM IST
Uttar Pradesh will have five new sainik schools by next year; government has made provisions for making education free for girls till graduation, says Adityanath
LUCKNOW Chief minister Yogi Adityanath on Friday said that sometimes parents and school managements put undue pressure on Board examinees to perform well, but children should not be forced to score better narks because they can only perform according to their physical and intellectual capabilities.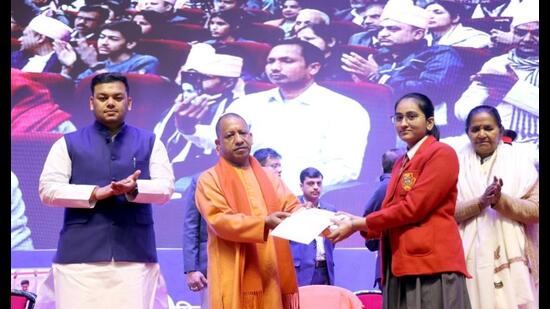 "Children should be encouraged for healthy competition and should not be unduly pressurised to score better marks as it could have a damaging impact on them. They should be allowed to treat exams as routine and perform well," he said.
The CM was addressing school managements and parents of students appearing in class 10 and 12 Board examinations during live-streaming of Prime Minister Narendra Modi's programme 'Pariksha Pe Charcha' here at Captain Manoj Kumar Pandey UP Sainik School, Lucknow.
"Sometimes, school managements like that of founder Jagdish Gandhi's City Montessori School (CMS) put a lot of pressure on students to perform well in the exams," said Adityanath.
Elaborate arrangements were made to connect school children in all the districts of UP with the PM's programme. The CM said UP will have five new sainik schools by next year.
Yogi Adityanath also honoured meritorious students who secured top ranks at state and national levels in the High School and Intermediate Board examinations in 2021-22. A total of 1,698 meritorious students, including 825 boys and 873 girls from various secondary boards, were awarded ₹1 lakh, tablets, citations and copies of the book 'Exam Warriors', authored by Prime Minister Narendra Modi.
As many as eight meritorious students, including Yuvakshi Vij and Diya Namdev from Intermediate, were invited on stage and awarded ₹1 lakh, a tablet, medal, citation and their parents were honoured with shawl and turban. A total of 57 students, who got the first 10 positions in the UP Board High School and Intermediate examinations, 24 top 10 scorers in Madhyamik Sanskrit Shiksha Parishad, Lucknow, and 33 top 10 scorers in the Council for the Indian School Certificate Examinations, New Delhi, Central Board of Secondary Education, New Delhi, were awarded ₹1 lakh, tablets, medals, caps and citations while their parents were honoured with shawls and turbans.
Appreciating the talent of meritorious students, the CM said the recent results of various examinations had shown the creativity of the girl child. "The state government is paying special attention to the education of the girl child. The government has made provisions for making education free for them till graduation, so that they become self-dependent," he said.
In this context, Adityanath mentioned the encouragement given to girls under the Mukhyamantri Kanya Sumangala Yojana.
Vidya Samiksha Kendra inaugurated
Vidya Samiksha Kendra, an addition to the series of initiatives in the field of systematic monitoring of education, was inaugurated by the chief minister. It is a 60-seater call centre with 18 screens, through which the dashboard is displayed using artificial intelligence.
He said, "Quarterly skill assessment test will be conducted for all the students through Saral app while the report cards will be sent to all the students and parents after analysing the data obtained from the skilful assessment test."