Gorakhnath Temple attack: Lucknow ATS court convicts accused
Jan 29, 2023 04:51 AM IST
Nearly nine months after the security breach in Gorakhpur's Gorakhnath Temple, the Lucknow-based special court of Anti-Terror Squad (ATS) held Ahmad Murtaza Abbasi guilty on Friday
Nearly nine months after the security breach in Gorakhpur's Gorakhnath Temple, the Lucknow-based special court of Anti-Terror Squad (ATS) held Ahmad Murtaza Abbasi guilty on Friday. The 31-year-old IIT-Mumbai pass-out chemical engineer had been accused of attacking PAC personnel present at the entrance of the temple. The temple premises also houses chief minister Yogi Adityanath's residence as he is head priest of the temple.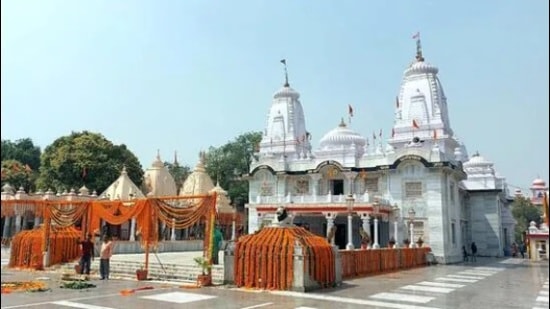 The court of special judge Vivekanand Saran Tripathi held him guilty after finding substantial evidence against him produced by the UP ATS. The court has fixed the next date for January 30 to decide the pronouncement of sentence against the accused in the case.
Public prosecutor MK Singh told the media that Abbasi tried to breach the security of the Gorakhnath Temple premises on April 3, 2022. He said Abbasi attacked PAC personnel Anil Kumar Paswan at the temple gate when challenged and injured him. In the process, Abbasi injured two constables of the Provincial Armed Constabulary (PAC) but his bid to enter the premises was foiled by other personnel present there and he was arrested. He said Abbasi also tried to snatch the rifle of a security man.
ALSO READ: Stones for Ram temple likely to reach Ayodhya from Nepal by early Feb
He said one security personnel, Vinay Kumar Mishra, had lodged an FIR under multiple sections of Indian Penal Code (IPC) in the first FIR registered with Gorakhnath police station on April 4, 2022. He said the FIR was lodged under IPC sections 186 (for voluntarily obstructing public servant in discharge of his public functions), 153-A (wanton vilification or attack upon the religion, race, place of birth, residence, language etc), 304 (attempt to murder), 332 (causing hurt to deter public servant from his duty), 333 (causing grievous hurt to deter public servant from his duty), 353 (causing grievous hurt to deter public servant from his duty) and 394 (causing hurt in committing robbery). Besides, section 7 of Criminal Law Amendment Act has been slapped on him for causing panic through his act. During the investigation, sections 16/18/20 of Unlawful Activities (Prevention) Act (UAPA) was also slapped on him.
ALSO READ: Architectural style of Gorakhnath temple likely to be part of new rly stn
The UP ATS was investigating the incident since then and had even taken custody of Abbasi on April 25, 2022 to interrogate him further. It was revealed during interrogation that Abbasi, whose family lives in Gorakhpur, had completed his chemical engineering from Mumbai's IIT in 2015 and thereafter worked in a multi-national company while being posted in Jamnagar, Gujarat for a long time. He said Abbasi's education and upbringing had been done in Mumbai as his father, Muneer Ahmad Abbasi, worked there as legal advisor in a private firm.