Lucknow feels tremors as 5.8-magnitude quake hits Nepal
Jan 24, 2023 07:45 PM IST
On August 20 last year, an earthquake of magnitude 5.2 hit the Indo-Nepal border. And then on Nov 9, another one measuring 6.3 on the Richter scale, with an epicentre located in Nepal, had hit the region
LUCKNOW Tremors shook Lucknow, other parts of UP and north India again for several seconds after an earthquake measuring 5.8 on the Richter scale, with epicentre located in Nepal, jolted the areas at 2:28pm on Tuesday. This was the third major quake in Lucknow since August last year. The city experienced an earthquake on August 20 and then on November 9.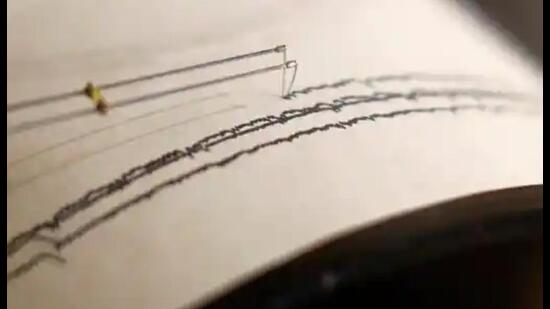 In a tweet, the National Centre for Seismology (NCS) stated: "Earthquake of magnitude 5.8 occurred on 24-01-2023 at 14:28:31 IST, depth: 10km, Location: Nepal." No casualty was reported in Lucknow till the filing of this report. NCS is the nodal agency of the government of India for monitoring earthquake activity in the country.
On August 20 (Janmashtami day) last year, an earthquake of magnitude 5.2 hit the Indo-Nepal border and then on November 9, another one measuring 6.3 on the Richter scale, with an epicentre located in Nepal, had hit the region.
As soon as people felt the tremors, social media was flooded with videos of netizens tweeting their experience of the earthquake. Sachi Bhargava, a senior citizen, said: "I was having lunch with my daughter at her Dalibagh residence on the third floor when I felt someone was moving my chair. Then we realised that there was an earthquake."
"I saw a number of people running out of the building for safety," she added. Yogya Pratap Singh, a class 12 student, also experienced the quake. "Several people in the vicinity who live in high-rise buildings came running out of their building," he said.
"Lucknow may continue to experience tremors but will remain safe. Why? The city comes under Earthquake Zone 3. It can only be moderately affected by earthquake because all factors responsible for its origin such as fold, fault and other tectonic activities are less active in the Ganga plain and their surface manifestation anywhere in Lucknow and in other places of Ganga plain is absent," said Prof Dhruv Sen Singh of the geology department, Lucknow University.
"In the Ganga plain, there are some faults and ridges, but they are inactive. Even if earthquake takes place in Lucknow, the alluvium sediments of Ganga plain act as a shock absorber that reduces the impact of earthquake,"
he added.
Earthquakes with a magnitude of about 2.0 or less are usually called micro-earthquakes. They are not commonly felt by people. Earthquakes between 3.0 and 3.9 magnitude are termed "minor" and do not have the intensity to cause any damage. Shocks in the range of 4.0 and 4.9 are called "light earthquakes" whereas those between 5 and 6 magnitudes can cause moderate damage in populated areas. Earthquakes above 7 cause severe destruction and loss of life over large areas, he added.