B G Kher Rd to open soon; will ease traffic flow
Jan 20, 2023 12:43 AM IST
A civic official said it took nearly two years for soil stabilisation of the Malabar Hill slope, conducted under the supervision of IIT-Bombay. "Since the hill slope was damaged, we had to tide over two monsoons for natural soil stabilisation
Mumbai: The upscale Malabar Hill's B G Kher Marg, also known as Ridge Road, which is used for VVIP movement, will be ready by January 26 and open for traffic subsequently. The thoroughfare was shut down two-and-a-half years ago, following the Malabar Hill landslide in August, 2020.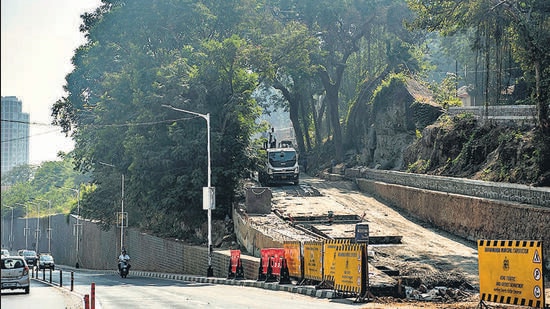 Its closure led to traffic diversion across three roads -- Walkeshwar Road, Nepeansea Road and NS Patkar Road. With the opening next week, traffic congestion will ease.
So why did it take Brihanmumbai Municipal Corporation (BMC) so long to repair an approximately one kilometre stretch?
A civic official said it took nearly two years for soil stabilisation of the Malabar Hill slope, conducted under the supervision of IIT-Bombay. "Since the hill slope was damaged, we had to tide over two monsoons for natural soil stabilisation. The water main (the pipeline) under the road was also damaged which had to be replaced along with other utilities like storm water drain," said the official.
The major repair work began in October last year. "The carriageway roadwork is nearing completion now; some finishing touches are awaited, along with work on the footpath, street lights, railings and beautification. It was first proposed as an asphalt road, but now we have concretised it with cement," he added.
The damage caused to the Parsi Panchayat compound wall during the landslide, added to the challenge. The road had caved in six feet under in August 2020.
"Road work began only after a gabion wall was constructed, for which we had to cut down trees," said the civic official. BMC spent around ₹50 crore to repair this stretch.
This road has a utility duct underneath to avoid trenching. The new storm water drain will prevent rainwater from accumulating. "There will be no need to dig this road in the future for laying utilities and cables. Henceforth, all roads will have this concept of utility ducts," he said.
BOX
Where is BG Kher Marg?
It begins from Hanging Gardens, near BMC's hydraulic engineer's abode, and ends at Kemps Corner junction. It connects Kemps Corner junction and August Kranti Road. It also connects Malabar Hill to major junctions of Hughes Road, Nepeansea Road and Peddar Road.
Quotes:
The closure of the B G Kher Marg exit had regularly led to traffic pile-up towards Walkeshwar Road and Nepeansea Road, which will be eased. This is a VVIP road that exits from Malabar Hill and leads to the airport – it is easier even for the governor to take this way to go towards Peddar Road. The other option is to go down Walkeshwar Road, which is long-winding.
Indrani Malkani, chairperson of V Citizens Action Network and a Malabar Hill resident
Earlier, people driving from Malabar Hill could use the Kemps Corner exit. Now, they have the option of coming from Hanging Gardens. It will certainly ease traffic.
Susieben Shah, general secretary Priyadarshani Park
Photo caption:
The newly repaired BG Kher Road on Malabar Hill.