MSEDCL sets up 12 EV charging stations in Navi Mumbai
Jan 17, 2023 12:30 AM IST
Navi Mumbai: Due to the rise of electric vehicles (EV), the Maharashtra State Electricity Distribution Company Limited (MSEDCL) has set up 12 EV charging stations in Navi Mumbai
Navi Mumbai: Due to the rise of electric vehicles (EV), the Maharashtra State Electricity Distribution Company Limited (MSEDCL) has set up 12 EV charging stations in Navi Mumbai. The charging cost has been kept lesser than the rates at private EV stations. It has been set up on the main roads for easy access to motorists.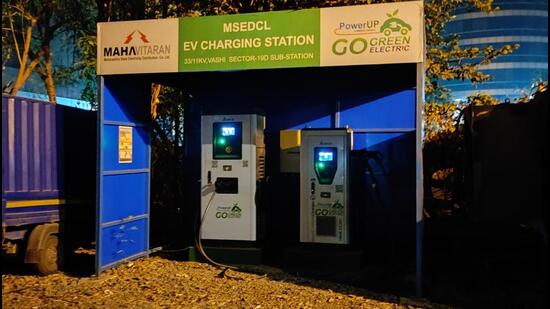 The development comes after there was a rise in demand for EV charging stations in the city.
"We want to ensure that motorists have easy access at economical rates to charge their electric vehicles. There are plans to set up several more EV charging stations in the city," Rajaram Mane, MSEDCL Vashi division superintendent engineer, said.
The charging stations have been installed at the substation at Raghuleela Mall in sector 30 near Vashi railway station, Kharghar substation at sector 2, substation at sector 19E near Galleria mall on Palm Beach road, Vashi, sector 15 Airoli substation, Pawane MIDC, sector 8 Rabale MIDC substation, Indira Nagar central road, near Lubrizol company in Turbhe, Tapal Naka in Panvel-Uran road, sector 50 in Seawoods, sector 9 Palm Beach road Nerul and in sector 15 of CBD Belapur.