Praful Patel demanded
₹

25 crore from my father, alleges Mohan Delkar's son

Dadra and Nagar Haveli administrator Praful Patel had allegedly demanded

₹

25 crore from late Member of Parliament (MP) Mohan Delkar. Patel also allegedly wanted to take over Delkar's educational trust, alleged Abhinav Delkar, son of the late Parliamentarian, in his police complaint. Besides booking Patel and others on charges of abetting the suicide, cops charged them under relevant sections of extortion and Atrocities Act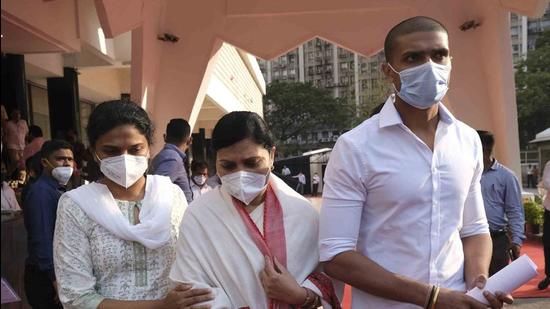 Published on Mar 10, 2021 11:49 PM IST
By Vijay Kumar Yadav
, Mumbai
Dadra and Nagar Haveli administrator Praful Patel had allegedly demanded ₹25 crore from late Member of Parliament (MP) Mohan Delkar. Patel also allegedly wanted to take over Delkar's educational trust, alleged Abhinav Delkar, son of the late Parliamentarian, in his police complaint. Besides booking Patel and others on charges of abetting the suicide, cops charged them under relevant sections of extortion and Atrocities Act.
Abhinav has further alleged that Patel conspired with key bureaucrats of Dadra and Nagar Haveli including district magistrate (DM) and superintendent of police (SP) and was allegedly harassing Delkar by various means and left him with no choice but to take the extreme step.
Marine Drive police on Tuesday recorded Abhinav's statement, on the basis of which an FIR has been registered. He has named a total of nine people in the complaint including Patel, DM Sandeep Singh, then SP Sharad Darade, deputy DM Apurva Sharma, sub-divisonal officer Manasvi Jain, police inspector Manoj Patel and Rohit Yadav, Fatehsingh Chauhan and Dilip Patel (Talathi).
While Patel was not available for comment, Sandeep Singh and Sharad Darade did not respond to phone calls and messages.
Delkar, who hails from Scheduled Tribes and known as a leader fighting for tribals rights, was found dead in a hotel in south Mumbai on February 22. Preliminary probe indicated that the seven-term MP died by suicide. Delkar had left behind a 15-page suicide note which he had written in Gujarati on his official letterhead. In the letter, he had blamed Patel and others for the extreme step, police officers said.
His son Abhinav told the police that on Patel's orders, local administration was targetting and harassing Delkar for nearly one year.
"Patel had demanded ₹25 crore as extortion from my father and threatened to jail him under PASA (Puducherry Prevention of Anti-Social Activities Act) if he doesn't do so," Abhinav alleged.
"Patel wanted to take control of SSR College for Pharmacy and Management, which is a renowned educational institute in Dadra and Nagar Haveli, and belongs to a trust established by Delkar. Patel wanted to usurp the college's land which is worth ₹100 crore in today's market and was intimidating Delkar through administrative actions," his son alleged.
Patel was threatening the MP since over a year over the college and wanted to have eight of the total 11 trustees.
Abhinav has specified seven key instances in the FIR in which Delkar was being targeted by the local administration.
He pointed out that his father's name was removed from the official function of Dadra and Nagar Haveli's Liberation Day, which is held on August 2. On this day, as part of the 66-year-old tradition, the MP gives a speech after administrator's speech. But his father's name was dropped from the function to insult him, Abhinav alleged. Later the parliamentary had also complained about this issue to Lok Sabha privilege committee and Speaker.
Abhinav cited a letter of resident deputy DM Apurva Sharma, dated September 2, 2020, in which Delkar was insulted.
Similarly Delkar was deliberately not invited in another government function held on December 17-18, last year, in which a Union minister had come to Dadra-Nagar Haveli for an inauguration function.
Abhinav also alleged that to target his father, on the directions of then SP Sharad Darade, police inspector Manoj Patel had re-opened an old case (CR 137/2003) in order to try to implicate his father in the case.
"One close aide of Patel, Fatehsingh Chauhan during 2019 elections had created a video in which false and serious allegations were made against my father and spread it all over on social media in order to harass him. My father had then slapped him a defamation notice too," Abhinav said.
He further alleged that the Talathi Dilip Patel had on February 18 this year made a false complaint of his father with the administrative office. Delkar's son alleged that the accused people have conspired together and would not follow his father's order, would not do his official works, ignore his directions and would not invite him in government functions and also intentionally ignore felicitating him.
The FIR also states that between December 18, 2020 and January 19, 2021, Delkar had made complaints against the accused people to the Prime Minister, home minister Amit Shah, Lok Sabha Speaker Om Birla, Lok Sabha standing committee president Bhupendra Yadav. During the hearing of his complaint in Lok Sabha standing committee, Delkar had said, "If harassment to me is not stopped, then I would be left with no option but committing suicide." However, after this, the accused got more aggressive and allegedly started harassing him more, states the complaint.
Abhinav said that he had advised his father to file complaints, but Delkar had told him that he was scared that if he approached the court, Patel would go to any extent to make his life a hell.
Patel and eight other accused have been booked under sections 306 (abatement to suicide), 506 (criminal intimidation), 389 (putting person in fear of accusation of offence, in order to commit extortion), 120B (criminal conspiracy) of the Indian Penal Code and section 3 (1)(n), 3 (1)(p), 3(2)(ii) 3(2)(va) of Prevention of Atrocities Act, 1989.
The allegations made by the complainant are yet to be proved and due verification and investigation would be carried out by the special investigation team ordered by the home department, said a police officer.
Deputy commissioner of police, zone 1, Shashi Meena refused to speak on the matter as it is an ongoing investigation.
Close Story