Uddhav was 'greedy' for CM's chair: Nadda
Pradip Kumar Maitra and Surendra P Gangan
Jan 03, 2023 12:32 AM IST
JP Nadda held rallies in Chandrapur (Vidarbha) and Aurangabad (Central Maharashtra) and held meetings with party leaders and office bearers. The rallies are seen as party's launch of 2024 Lok Sabha campaign in Maharashtra where it aims to win 45 of total 48 seats
NAGPUR/Mumbai: In what is seen as a launch of party's 2024 Lok Sabha campaign, Bharatiya Janata Party (BJP) chief JP Nadda set the agenda before party workers and state leaders. He came down heavily on Shiv Sena (UBT) chief Uddhav Thackeray and also asked his party workers to take the social schemes implemented by Narendra Modi government to the voters.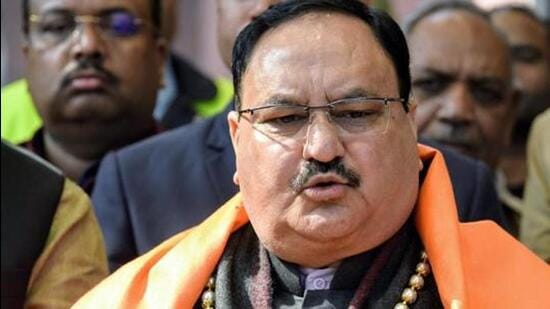 Nadda held rallies in Chandrapur (Vidarbha) and Aurangabad (Central Maharashtra) and held meetings with party leaders and office bearers. The rallies are seen as party's launch of 2024 Lok Sabha campaign in Maharashtra where it aims to win 45 of total 48 seats. Nadda held the rallies as part of party's 'Mission 45' for Maharashtra.
ALSO READ: 'Not afraid of even his father': Fadnavis replies to Aaditya Thackeray; 'Under his nose'
Nadda in his Chandrapur rally, about 840kms from Mumbai, made a scathing attack on Shiv Sena Thackeray claiming that his 'greed' for the chief minister's chair made him join hands with people whom late Balasaheb Thackeray had spent his entire life fighting. "This is what they brought to Maharashtra. Should these kinds of people be forgiven?" he asked.
Calling the MVA alliance of Shiv Sena, Nationalist Congress Party (NCP) and the Congress as unnatural, the BJP chief said it was given an apt answer with the formation of the government led by Eknath Shinde and Devendra Fadnavis. "Uddhav-led Sena shared the stage with us, and agreed with us when we spoke about 'Narendra (Modi) in Delhi and Devendra (Fadnavis) in Maharashtra'. When results came, they began to eye the chief minister's chair. They stabbed us in the back. But in politics, power rests only with those who speak the truth. An unnatural does not last long," he retorted.
Both Aurangabad and Chandrapur are the constituencies where the party does not have its sitting MPs. Chandrapur was traditionally a BJP citadel where the senior party leader Hansraj Ahir, who had won the seat since 2004, lost to the Congress's Suresh Dhanorkar in 2019 elections because of internal fight within the party. AIMIM's Imtiyaz Jaleel won the Aurangabad seat.
ALSO READ: 'Putin, Biden, Charles discussing who is Uddhav Thackeray': Sanjay Raut's viral speech
As part of 'Mission 45', union and state ministers have been touring the Lok Sabha constituencies for the last six months. It will cover 18 Lok Sabha constituencies in first phase and 17 in the second phase as part of our Lok Sabha Pravas Yojana. The party has identified 144 LS constituencies across the country, where the party could not win in 2019 general polls. Sixteen of them are from Maharashtra. The party has roped in union ministers such as Nirmala Sitharaman, Hardeep Singh Puri, and Anurag Thakur among others.