Newborn boy abandoned in express train, spotted at Kalyan
Baby is healthy and will be shifted to a government child care centre at Nerul soon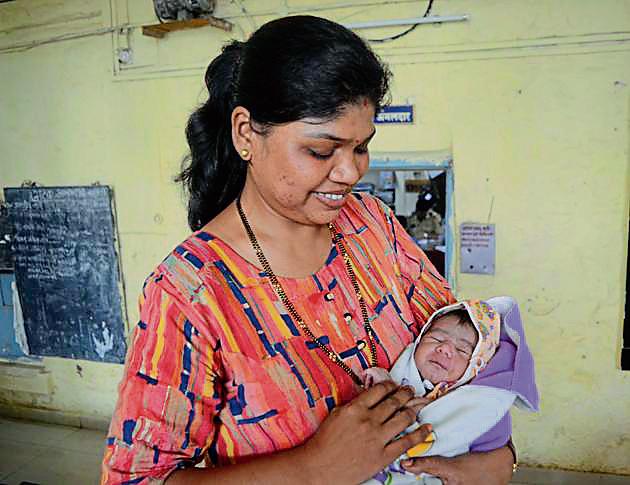 Updated on Aug 03, 2018 12:46 AM IST
Hindustan Times |
, Kalyan
Priyanka Dhomse
A newborn was found abandoned near the footboard of one of the compartments of Lokmanya Tilak Terminus - Varanasi train on Tuesday.
The baby was spotted by a passenger boarding the train at Kalyan station following which GRP was informed.
The officers then admitted the child to a nearby hospital for a check up. The baby is healthy and will be shifted to a child care unit, informed a GRP officer.
The incident was reported at 2:50 am on Tuesday after which the week-old boy was handed over to Kasara GRP. Sachin Mishra, 23, was the passenger who spotted the baby and informed the Kalyan GRP with help of TTE.
"I boarded the same train from Kalyan Station for Varanasi.While entering the coach, I saw some thing wrapped inside a blanket, but didn't pay much attention. While I was placing my luggage, I heard a baby cry as my seat was near the door. When i checked, the blanket was moving. A baby had ben wrapped inside the blanket," said Mishra, a resident of Kalyan.
Mishra picked the baby and enquired with other passengers, but no body claimed the baby. "I waited for 30 minutes. By then other passengers had gather around and they were trying help me calm the baby," he added.
Mishra then informed the travelling ticket examiner. The two informed Kalyan GRP about the baby.
"As train had left Kalyan station, the baby was handed over to the railway police at Kasara station," he added.
"A case has been registered against accused at Kalyan GRP under section 317 (exposure and abandonment of child under twelve years)of the Indian Penal Code. Kalyan GRP is probing the case and scanning CCTV footage for possible leads,"said Dinkar Pingale, senior inspector, Kalyan GRP.
He added that after taking custody of the newborn from Kasara GRP, the baby was admitted to a hospital in Ulhasnagar.
"The baby is under observation and is healthy. One of our constables is looking after him. As per Child Welfare Commission (CWC) directives, the baby will be shifted to a government child care unit at Nerul, Navi Mumbai," said Pingale.
Close Story