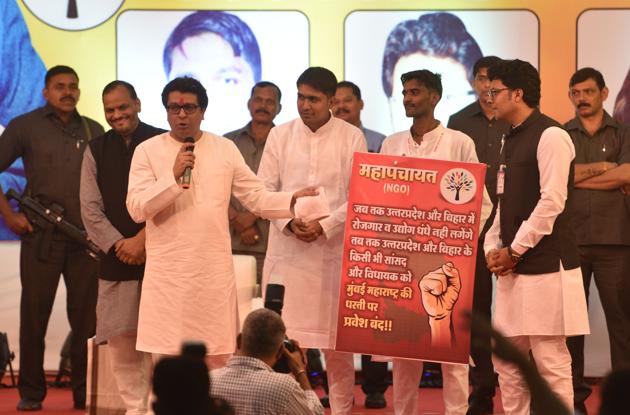 No hate for north Indians, just want priority for locals in job opportunities: Raj Thackeray
Thackeray said there was a misconception about him and his party workers among Hindi-speaking people, attributing the rift to the differences in language
UPDATED ON DEC 03, 2018 05:26 PM IST
After maintaining an anti-north Indian stance since forming his party in 2006, Maharashtra Navnirman Sena (MNS) chief Raj Thackeray on Sunday said he was not against the community but wanted Maharashtrians to be prioritised when it came to job opportunities in the state.
"Don't you say the same thing for Uttar Pradesh and Bihar?" Thackeray asked a gathering of north Indians in Kandivli rallied by the Uttar Bhartiya Mahapanchayat (UBM), a non-governmental organisation.
Thackeray said there was a misconception about him and his party workers among Hindi-speaking people, attributing the rift to the differences in language. "I want north Indians to understand my side of things," he said.
The MNS chief questioned the failure of politicians in Uttar Pradesh and Bihar to create enough opportunities for their people and taking development forward. Thackeray asked what was wrong in his asking for Maharashtrian youth to be given priority over other migrants in situations of dire unemployment.
"With 13.5 crore people in the state, things have reached a point where there is no space left for more. We don't have enough space to walk on the roads because of huge inflow of migrants from Uttar Pradesh, Bihar and Chhattisgarh," he said. "We understand your situation but change needs to come from within the community. You have to tell your own people that now no space is left in Maharashtra, so please don't come here."
Thackeray said despite 90% of India's prime ministers getting elected from Uttar Pradesh (such as Jawaharlal Nehru, Indira Gandhi, Rajiv Gandhi, Atal Bihari Vajpayee and Narendra Modi), not enough jobs have been created in that region.
"Where is your self-esteem? Why you all have to face humiliation in other states?" he asked the gathering.
Thackeray said he wanted healthy competition between all states to take the country forward besides also calling for a law that prevented imbalance from huge levels of interstate migration.
From the organiser's part, UBM president Vinay Dube said the event was organised to end differences between north Indians and the Marathi-speaking people.
In the run-up to Thackeray's speech on Sunday, other north Indian associations expressed doubts over his motives and said this was a ploy by the MNS chief to meet electoral ends during the polls next year.
Close